Mining seed proteome: from protein dynamics to modification profiles
Andrej Frolov

Department of Bioorganic Chemistry, Weinberg 3, 06120 Halle/Saale DE, Leibniz Institute of Plant Biochemistry, Germany; Department of Biochemistry, Faculty of Biology, Saint Petersburg State University, Srednii prosp., 41–43, Saint Petersburg, 199004, Russian Federation

https://orcid.org/0000-0003-3250-5858

Tatiana Mamontova

Department of Bioorganic Chemistry, Weinberg 3, 06120 Halle/Saale DE, Leibniz Institute of Plant Biochemistry, Germany; Department of Biochemistry, Faculty of Biology, Saint Petersburg State University, Srednii prosp., 41–43, Saint Petersburg, 199004, Russian Federation

https://orcid.org/0000-0002-9794-8089

Christian Ihling

Department of Pharmaceutical Chemistry and Bioanalytics, Institute of Pharmacy, Wolfgang-Langenbeck-Strasse 4, 06120 Halle/Saale DE, Martin-Luther Universität Halle-Wittenberg, Germany

Elena Lukasheva

Department of Biochemistry, Faculty of Biology, Saint Petersburg State University, Srednii prosp., 41–43, Saint Petersburg, 199004, Russian Federation

https://orcid.org/0000-0002-0889-2395

Mikhail Bankin

Department of Plant Physiology and Biochemistry, Faculty of Biology, Saint Petersburg State University, Universitetskaya nab., 7–9, Saint Petersburg, 199034, Russian Federation

https://orcid.org/0000-0002-6240-2246

Veronika Chantseva

Department of Plant Physiology and Biochemistry, Faculty of Biology, Saint Petersburg State University, Universitetskaya nab., 7–9, Saint Petersburg, 199034, Russian Federation

https://orcid.org/0000-0002-3486-4232

Maria Vikhnina

Department of Bioorganic Chemistry, Weinberg 3, 06120 Halle/Saale DE, Leibniz Institute of Plant Biochemistry, Germany; Department of Biochemistry, Faculty of Biology, Saint Petersburg State University, Srednii prosp., 41–43, Saint Petersburg, 199004, Russian Federation

https://orcid.org/0000-0003-0120-3435

Alena Soboleva

Department of Bioorganic Chemistry, Weinberg 3, 06120 Halle/Saale DE, Leibniz Institute of Plant Biochemistry, Germany; Department of Biochemistry, Faculty of Biology, Saint Petersburg State University, Srednii prosp., 41–43, Saint Petersburg, 199004, Russian Federation; Department of Сell and Metabolic Biology, Weinberg 3, 06120 Halle/Saale DE, Leibniz Institute of Plant Biochemistry, Germany

https://orcid.org/0000-0002-7318-8628

Julia Shumilina

Department of Biochemistry, Faculty of Biology, Saint Petersburg State University, Srednii prosp., 41–43, Saint Petersburg, 199004, Russian Federation

https://orcid.org/0000-0002-9747-5779

Gregory Mavropolo-Stolyarenko

Department of Biochemistry, Faculty of Biology, Saint Petersburg State University, Srednii prosp., 41–43, Saint Petersburg, 199004, Russian Federation

https://orcid.org/0000-0001-8712-0272

Tatiana Grishina

Department of Biochemistry, Faculty of Biology, Saint Petersburg State University, Srednii prosp., 41–43, Saint Petersburg, 199004, Russian Federation

https://orcid.org/0000-0002-5306-2980

Natalia Osmolovskaya

Department of Plant Physiology and Biochemistry, Faculty of Biology, Saint Petersburg State University, Universitetskaya nab., 7–9, Saint Petersburg, 199034, Russian Federation

https://orcid.org/0000-0001-8764-8552

Vladimir Zhukov

All-Russia Research Institute for Agricultural Microbiology, Podbelsky chaussee 3, Pushkin, Saint Petersburg, 196608, Russian Federation

https://orcid.org/0000-0002-2411-9191

Wolfgang Hoehenwarter

Proteome Analytics Research Group, Weinberg 3, 06120 Halle/Saale DE, Leibniz Institute of Plant Biochemistry, Germany

https://orcid.org/0000-0002-7669-7524

Andrea Sinz

Department of Pharmaceutical Chemistry and Bioanalytics, Institute of Pharmacy, Wolfgang-Langenbeck-Strasse 4, 06120 Halle/Saale DE, Martin-Luther Universität Halle-Wittenberg, Germany

https://orcid.org/0000-0003-1521-4899

Igor Tikhononovich

All-Russia Research Institute for Agricultural Microbiology, Podbelsky chaussee 3, Pushkin, Saint Petersburg, 196608, Russian Federation; Department of Genetics and Biotechnology, Faculty of Biology, Saint Petersburg State University, Universitetskaya nab., 7–9, Saint Petersburg, 199034, Russian Federation

https://orcid.org/0000-0001-8968-854X

Ludger Wessjohann

Department of Bioorganic Chemistry, Weinberg 3, 06120 Halle/Saale DE, Leibniz Institute of Plant Biochemistry, Germany

https://orcid.org/0000-0003-2060-8235

Tatiana Bilova

Department of Bioorganic Chemistry, Weinberg 3, 06120 Halle/Saale DE, Leibniz Institute of Plant Biochemistry, Germany; Department of Plant Physiology and Biochemistry, Faculty of Biology, Saint Petersburg State University, Universitetskaya nab., 7–9, Saint Petersburg, 199034, Russian Federation

https://orcid.org/0000-0002-6024-3667

Galina Smolikova

Department of Plant Physiology and Biochemistry, Faculty of Biology, Saint Petersburg State University, Universitetskaya nab., 7–9, Saint Petersburg, 199034, Russian Federation

https://orcid.org/0000-0001-5238-1851

Sergei Medvedev

Department of Plant Physiology and Biochemistry, Faculty of Biology, Saint Petersburg State University, Universitetskaya nab., 7–9, Saint Petersburg, 199034, Russian Federation

https://orcid.org/0000-0003-1127-1343
Abstract
In the modern world, crop plants represent a major source of daily consumed foods. Among them, cereals and legumes — i.e. the crops accumulating oils, carbohydrates and proteins in their seeds — dominate in European agriculture, tremendously impacting global protein consumption and biodiesel production. Therefore, the seeds of crop plants attract the special attention of biologists, biochemists, nutritional physiologists and food chemists. Seed development and germination, as well as age- and stress-related changes in their viability and nutritional properties, can be addressed by a variety of physiological and biochemical methods. In this context, the methods of functional genomics can be applied to address characteristic changes in seed metabolism, which can give access to stress-resistant genotypes. Among these methods, proteomics is one of the most effective tools, allowing mining metabolism changes on the protein level. Here we discuss the main methodological approaches of seed proteomics in the context of physiological changes related to environmental stress and ageing. We provide a comprehensive comparison of gel- and chromatographybased approaches with a special emphasis on advantages and disadvantages of both strategies in characterization of the seed proteome.
Keywords:
food safety, LC-MS, post-translational modifications, proteomics, seed quality
Downloads
Download data is not yet available.
References
Guerrier, N. and Gavaletto, M. 2018. Cereal proteins. Second edition: 223–244.
Lafiandra, D., Masi, S., Sissons, M., Dornez, E., Delour, J. A., Ourtin, M., and Aboni, M. F. 2012. Kernel components of technological value. Second edition:85–124.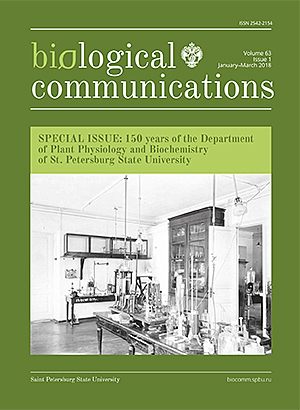 How to Cite
Frolov, A., Mamontova, T., Ihling, C., Lukasheva, E., Bankin, M., Chantseva, V., Vikhnina, M., Soboleva, A., Shumilina, J., Mavropolo-Stolyarenko, G., Grishina, T., Osmolovskaya, N., Zhukov, V., Hoehenwarter, W., Sinz, A., Tikhononovich, I., Wessjohann, L., Bilova, T., Smolikova, G., & Medvedev, S. (2018). Mining seed proteome: from protein dynamics to modification profiles. Biological Communications, 63(1), 43–58. https://doi.org/10.21638/spbu03.2018.106
Section
Review communications
Articles of Biological Communications are open access distributed under the terms of the License Agreement with Saint Petersburg State University, which permits to the authors unrestricted distribution and self-archiving free of charge.