Influence of exogenous antioxidants on the generation of superoxide anion-radicals in the cucumber leaves under low temperature and Cu2+ stress
Alexander Lukatkin

Mordovia State University, Saransk, Russian Federation

Svetlana Eshkina

Mordovia State University, Saransk, Russian Federation

Natalia Osmolovskaya

Department of Plant Physiology and Biochemistry, Faculty of Biology, Saint Petersburg State University, Universitetskaya nab., 7–9, Saint Petersburg, 199034, Russian Federation

https://orcid.org/0000-0001-8764-8552
Abstract
The effect of exogenous ascorbic acid and glutathione on the oxidative stress in cucumber leaves under chilling temperature and Cu2+ was studied. Ascorbic acid showed a pronounced antioxidant effect only at chilling temperature 3 °С, whereas at 25 °С it has a prooxidant effect that results in increased O2˙– generation. Glutathione provoked reducing of O2˙– level under both temperatures. Cu2+ in concentration 10–3 М induced O2˙– generation in leave cells under both 25 °С and 3 °С, whereas Cu2+ addition in lower concentration 10–5 М at 3 °С resulted in decreased production of O2˙–. The combined action of glutathione and Cu2+ 10–5 М was shown to lead to reduced O2˙– generation, but the effect was opposite when glutathione was given together with Cu2+ in concentration 10–3 М. It is concluded that glutathione is more effective in reducing of O2˙– generation than ascorbic acid but its antioxidant activity appears to be inhibited in the presence of high Cu2+ concentrations. Refs 27. Figs 2. Tables 2.
Keywords:
oxidative stress, low temperature stress, antioxidants, ascorbic acid, glutathione, superoxide anion-radical, Cu2
Downloads
Download data is not yet available.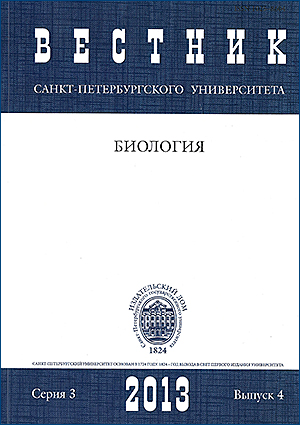 How to Cite
Lukatkin, A., Eshkina, S., & Osmolovskaya, N. (2013). Influence of exogenous antioxidants on the generation of superoxide anion-radicals in the cucumber leaves under low temperature and Cu<sup>2+</sup&gt; stress. Biological Communications, (4), 65–73. Retrieved from https://biocomm.spbu.ru/article/view/1326
Section
Full communications
Articles of Biological Communications are open access distributed under the terms of the License Agreement with Saint Petersburg State University, which permits to the authors unrestricted distribution and self-archiving free of charge.