The role of organic acids in heavy metal tolerance in plants
Natalia Osmolovskaya

Department of Plant Physiology and Biochemistry, Faculty of Biology, Saint Petersburg State University, Universitetskaya nab., 7–9, Saint Petersburg, 199034, Russian Federation

https://orcid.org/0000-0001-8764-8552

Dung Viet Vu

Department of Plant Physiology and Biochemistry, Faculty of Biology, Saint Petersburg State University, Universitetskaya nab., 7–9, Saint Petersburg, 199034, Russian Federation

Ludmila Kuchaeva

Department of Plant Physiology and Biochemistry, Faculty of Biology, Saint Petersburg State University, Universitetskaya nab., 7–9, Saint Petersburg, 199034, Russian Federation

https://orcid.org/0000-0002-4263-9852
Abstract
Organic acid metabolism is of fundamental importance at the cellular and at the whole plant level. In recent years there has been increased attention in the role of organic acids in modulating adaptation to the environment, including organic acids participation in the detoxification of heavy metals. The basis of the phenomenon is the ability of acids such as citrate, malate, oxalate, malonate, aconitate and tartrate to form strong bonds with heavy metal ions through metal chelatation with carboxyl groups carrying the function of donor oxygen in metal-ligands. This review deals with aspects of extracellular and intracellular chelation of heavy metal ions with the involvement of organic acids. We consider the role of metal-induced secretion of malate, citrate and oxalate by roots of various plant species in extracellular complexation of heavy metals and in the reduction of their bioavailability for plants. We also review the possible mechanisms of stimulation of metals uptake by plants under the influence of exogenous application of organic acids in the soil. The efficiency of intracellular chelation of heavy metal ions with the participation of organic acids is considered due to the importance of this strategy in hyperaccumulators and non-hyperaccumulators to improve metal tolerance in plants.
Keywords:
organic acids, heavy metals, plant tolerance, organic acid secretion, chelation, malate, citrate, oxalate
Downloads
Download data is not yet available.
References
Chirkova, T. V. 2002. Physiologicheskiie osnovy ustojchivosti rastenii [Physiological basis of plant tolerance]. 240 pp. Izdatelstvo Sankt-Peterburgskogo Universiteta, Saint Petersburg.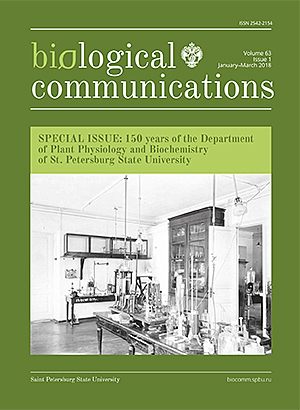 How to Cite
Osmolovskaya, N., Vu, D. V., & Kuchaeva, L. (2018). The role of organic acids in heavy metal tolerance in plants. Biological Communications, 63(1), 9–16. https://doi.org/10.21638/spbu03.2018.103
Section
Review communications
Articles of Biological Communications are open access distributed under the terms of the License Agreement with Saint Petersburg State University, which permits to the authors unrestricted distribution and self-archiving free of charge.