Brassinosteroids influence on Brassica oleracea L. seeds tolerance to the accelerated aging
Galina Smolikova

Department of Plant Physiology and Biochemistry, Faculty of Biology, Saint Petersburg State University, Universitetskaya nab., 7–9, Saint Petersburg, 199034, Russian Federation

https://orcid.org/0000-0001-5238-1851

Julia Zadvornova

V. F. Kuprevich Institute of Experimental Botany, National Academy of Sciences of Belarus, Belarus

Nikolai Laman

V. F. Kuprevich Institute of Experimental Botany, National Academy of Sciences of Belarus, Belarus

Sergei Medvedev

Department of Plant Physiology and Biochemistry, Faculty of Biology, Saint Petersburg State University, Universitetskaya nab., 7–9, Saint Petersburg, 199034, Russian Federation

https://orcid.org/0000-0003-1127-1343
Abstract
The influence of 24-epibrassinolide (EB) on the tolerance of cabbage seeds with different content of residual chlorophylls to accelerated aging induced by high air humidity and temperature has been studied. Seeds with a higher content of chlorophylls are more sensitive to stress conditions of storage. The damaging effect of chlorophylls is probably associated with the generation of reactive oxygen species and oxidative stress. EB delays development of damage at the accelerated aging of cabbage seeds, particularly in the seeds with a higher chlorophyll content. The positive effect of EB is shown to maintain the integrity of cell membranes, to accelerate the initiation of cell cycle in embryonic roots and the rate of germination. The influence of brassinosteroids on seed tolerance to accelerated aging may be associated with the induction of heat shock protein synthesis and the activation of proton pump in plasma membrane. Refs 40. Figs 2. Tables 4.
Keywords:
Cabbage (Brassica oleracea L.), seeds, accelerated aging, brassinosteroids, epibrassinolide, seed tolerance, chlorophylls
Downloads
Download data is not yet available.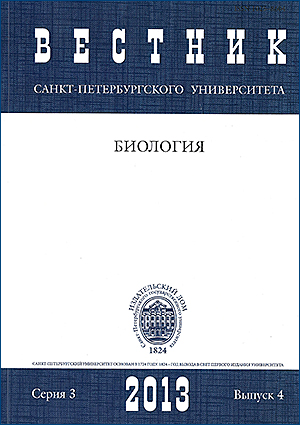 How to Cite
Smolikova, G., Zadvornova, J., Laman, N., & Medvedev, S. (2013). Brassinosteroids influence on <em>Brassica oleracea</em&gt; L. seeds tolerance to the accelerated aging. Biological Communications, (4), 74–84. Retrieved from https://biocomm.spbu.ru/article/view/1327
Section
Full communications
Articles of Biological Communications are open access distributed under the terms of the License Agreement with Saint Petersburg State University, which permits to the authors unrestricted distribution and self-archiving free of charge.