Algae of terrestrial biotopes near the Russian Antarctic scientific station Bellingshausen, King George Island
Andrey Burdo

Department for Applied Ecology, Faculty of Biology, Saint Petersburg State University, Universitetskaya nab., 7–9, Saint Petersburg, 199034, Russian Federation

Valentina Nikitina

Department for Applied Ecology, Faculty of Biology, Saint Petersburg State University, Universitetskaya nab., 7–9, Saint Petersburg, 199034, Russian Federation

https://orcid.org/0000-0001-7041-7539

Evgeny Abakumov

Department of Applied Ecology, Faculty of Biology, Saint Petersburg State University, 16th Liniya V. O., 29, Saint Petersburg, 199178, Russian Federation

https://orcid.org/0000-0002-5248-9018
Abstract
The biodiversity of algae of anthropogenically and technogenically disturbed terrestrial biotopes at the Bellingshausen Station of King George Island has been revealed. Fifty-three species of algae from five divisions were detected. Representatives of the cyanobacteria division dominated in the biotope studied. Almost all species belong to benthic forms, which corresponds well with the nature and origin of the biotopes. Differences in the composition of algocoenoses which developed on ornithogenic, mineral or anthropogenically polluted substrates were noted and characterized. The features of participation of different morphological types of algae in the process of organic mat formation have been emphasized. The biotopes of polar station surroundings were characterized by the dominance of cyanobacteria. Endemic species were not found.
Keywords:
Antarctica, King George Island, algae, terrestrial biotopes, algal flora, biodiversity
Downloads
Download data is not yet available.
References
Andreeva, V. М. 1998. Soil and aerophilic green algae (Chlorophyta: Tetrasporales, Chlorococcales, Chlorosarcinales). 351 p. (In Russian)
Barinova, S. S., Medvedeva, L. A., and Anisimova, O. V. 2006. Diversity of algal indicators in environmental assessment. 498 p. (In Russian)
Carlson, G. W. F. 1913. Süsswasseralgen aus der Antarktis, Südgeorgien und den Falkland Inseln. Wissenschaftliche Ergebnisse der schwedischen Südpolar-Expedition 1901–1903 unter Leitung von Dr. O. Nordenskjöld 4(14):94 p.
Elenkin, A. A. 1949. The blue-green algae of the USSR. Monograph of freshwater and terrestrial Cyanophyceae found within the USSR. Special (systematic) part. Vol. 2. 920 p. (In Russian)
Hollerbach, M. M. and Shtina, E. A. 1969. Soil algae. 228 p. (In Russian)
Hollerbach, M. M., Kosinskaya, E. K., and Polyansky, V. I. 1953. Qualifier of algae of the USSR. Vol. 2. Blue-green algae. 651 p. (In Russian)
Hooker, J. D. 1847. The botany of the Antarctic voyage of H.M. discovery ships Erebus and Terror in the Years 1839–1843. 1–66.
Komárek, J. and Anagnostidis, K. 1999. Süßwasserflora von Mitteleuropa. Cyanoprokaryota: 1. Teil / Part 1: Chroococcales. 19/1: VI, 548 p.
Komárek, J. and Anagnostidis, K. 2005. Süßwasserflora von Mitteleuropa. Cyanoprokaryota: 2. Teil / Part 2: Oscillatoriales. 19/2: IX, 759 p.
Round, F. E. 1981. The ecology of Algae. 653 p.
Shtina, E. A. and Hollerbach, M. M. 1976. Ecology of soil algae. 143 p. (In Russian)
Vasser, S. P., Kondratyeva, N. V., Masyuk, N. P., et al. 1989. Algae. Reference book. 608 p. (In Russian)
Vincent, W. F. 1988. Microbial Ecosystems of Antarctica. XIII, 304 p.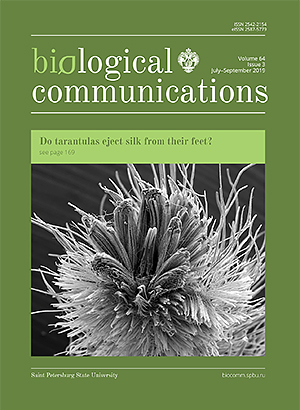 How to Cite
Burdo, A., Nikitina, V., & Abakumov, E. (2019). Algae of terrestrial biotopes near the Russian Antarctic scientific station Bellingshausen, King George Island. Biological Communications, 64(3), 189–200. https://doi.org/10.21638/spbu03.2019.303
Section
Full communications
Articles of Biological Communications are open access distributed under the terms of the License Agreement with Saint Petersburg State University, which permits to the authors unrestricted distribution and self-archiving free of charge.