Soil organic matter quality and composition in a postfire Scotch pine forest in Tolyatti, Samara region
Ekaterina Maksimova

Department of Applied Ecology, Faculty of Biology, Saint Petersburg State University, 16th Liniya V. O., 29, Saint Petersburg, 199178, Russian Federation; Institute of Ecology of Volga River Basin, Tolyatti, Russian Federation

https://orcid.org/0000-0002-2449-2180

Evgeny Abakumov

Department of Applied Ecology, Faculty of Biology, Saint Petersburg State University, 16th Liniya V. O., 29, Saint Petersburg, 199178, Russian Federation; Institute of Ecology of Volga River Basin, Tolyatti, Russian Federation

https://orcid.org/0000-0002-5248-9018
Abstract
Evaluation of humus accumulation and humification rates was conducted on soils affected by surface and crown fires during 2010 forest fires near Tolyatti (Samara region, Russia). Three key soil plots were studied for estimating SOM quality changes under the forest fire effect. Total carbon and nitrogen content, as well as Сhumic acids/Cfulvic acids (Cha/Cfa) ratios, were estimated to evaluate the dynamics of soil recovery. Humic acid powders were extracted from soils and analyzed by elemental composition and 13C-NMR spectroscopy to assess changes in structure and composition. The data indicate that the burning of a forest floor and humic horizon led to humus losses and decreases in total carbon stocks and content. As a result of the fires, the content of humic acids in the pyrogenic horizon increased. Greater increases in the degree of organic matter humification were observed for surface fires than for crown fires. Fire also lead to the formation of humic acids with an increased proportion of aromatic compounds than in control soils, which indicates the degradation of carboxylic and aliphatic groups of molecules under the burning effect. This corresponds well with the decrease of the proportion of hydrogen when comparing the elemental composition of burned soil with that of mature soil.
Keywords:
soils, wildfires, postfire soil development, humic acids, soil organic matter
Downloads
Download data is not yet available.
References
Cleland, T. M. 2004. The Munsell Color System. A practical description with suggestions for its use. USA: 3rd Edition, Kessinger Publishing, Whitefish, Mont.
Dobrovol'skij, G. V. 2002. Soil degradation and conservation. Мoscow: Mosk. Gos. Univ. 654 pp.
Lodygin, E. D. 2016. Structural and functional parameters of humic substances of taiga and tundra soils at the European North-East of Russia. — Dr. Sci. dissertation abstract, Moscow, 48 pp.
Methods of Soil Analysis. Part 3 Chemical Methods. 1996. Wisconsin, USA: Soil Science Society of America Inc., American Society of Agronomy Inc. 677, South Segoe Road, Madison.
Orlov, D. S. 1985. Soil Chemistry. Moscow: Mosk. Gos. Univ. [in Russian].
Orlov, D. S., and Grishina, L. A. 1981. Laboratory Manual on Humus Chemistry. Moscow: Moscow State University Press [in Russian].
Orlov, D. S., Sadovnikova, L. K., and Sukhanova, N. I. 2005. Soil chemistry. Moscow: «High school», 558 pp.
Schnitzer, M. 1982. Organic matter characterization. In: Page BL, Miller RH, Keeney DR (eds) Methods of soil analysis, Part 2, chemical and microbiological properties. Agronomy monograph 9, Soil Science Society of America, Madison, 581–594.
Shishov, L. L., and Tonkonogov, V. D. 2004. Classification and diagnostics of Russian soils. Moscow, Russia: Soil institute of Dokuchayev, 341 pp.
Vasil'evskaya, V. D., Ivanov, V. V., and Bogatyrev, L. G. 1986. Soils of the North of Western Siberia. Moscow: Moscow State University Press. [in Russian].
Vorobyova, L. A. 2006. Theory and practice of the chemical soil analysis. Moscow, Russia: GEOS, 400 pp.
Zikeev, T. A., and Korelin, A. I. 1948. Analysis of Power Fuel. Moscow [in Russian].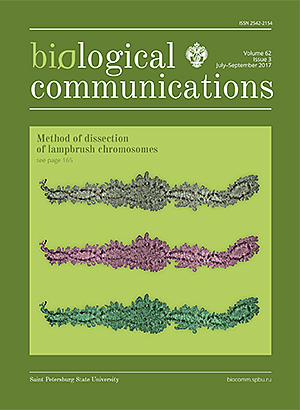 How to Cite
Maksimova, E., & Abakumov, E. (2017). Soil organic matter quality and composition in a postfire Scotch pine forest in Tolyatti, Samara region. Biological Communications, 62(3), 169–180. https://doi.org/10.21638/11701/spbu03.2017.303
Section
Full communications
Articles of Biological Communications are open access distributed under the terms of the License Agreement with Saint Petersburg State University, which permits to the authors unrestricted distribution and self-archiving free of charge.