Mammalian antimicrobial peptides: classification, biological role, perspectives of practical use
Maria Zharkova

Institute of Experimental Medicine of the North West Branch of the Russian Academy of Medical Sciences, Saint Petersburg, 197376, Russian Federation

Dmitriy Orlov

Institute of Experimental Medicine of the North West Branch of the Russian Academy of Medical Sciences, Saint Petersburg, 197376, Russian Federation; Saint Petersburg State University, 7–9, Universitetskaya nab., Saint Petersburg, 199034, Russian Federation

Vladimir Kokryakov

Institute of Experimental Medicine of the North West Branch of the Russian Academy of Medical Sciences, Saint Petersburg, 197376, Russian Federation; Saint Petersburg State University, 7–9, Universitetskaya nab., Saint Petersburg, 199034, Russian Federation

Olga Shamova

Institute of Experimental Medicine of the North West Branch of the Russian Academy of Medical Sciences, Saint Petersburg, 197376, Russian Federation; Saint Petersburg State University, 7–9, Universitetskaya nab., Saint Petersburg, 199034, Russian Federation
Abstract
Antimicrobial peptides (AMPs) of phagocytes and epithelial cells are the key effector molecules of the innate immune system, providing the anti-infective host defense. Besides the antimicrobial action AMPs exert a broad spectrum of other biological activities, including various effects towards host cells. Thus, these peptides can be considered not only as antimicrobial agents, but also as potential biomodulators. The review outlines main principles of classification and different types of the biological activity of structurally diverse mammalian AMPs. It discusses specific structure patterns of the largest families of mammalian AMPs and key phases of AMPs interaction with bacterial cells according to the nowadays concept of a mode of their antimicrobial action. AMPs potential in immunomodulation and wound healing, their endotoxin-binding and anticancer capabilities are reviewed. Since AMPs are considered as promising templates for a design of novel therapeutic agents, questions of their structure-activity relationship and mechanisms of bacterial resistance towards such compounds are considered. Problems and perspectives of practical use of AMPs are discussed. Refs 44. Figs 6. Таbles 1.
Keywords:
innate immunity, antimicrobial peptides, defensins, cathelicidins, protegrins, bactenecins
Downloads
Download data is not yet available.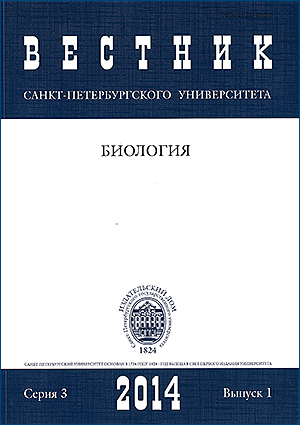 How to Cite
Zharkova, M., Orlov, D., Kokryakov, V., & Shamova, O. (2014). Mammalian antimicrobial peptides: classification, biological role, perspectives of practical use. Biological Communications, (1), 98–114. Retrieved from https://biocomm.spbu.ru/article/view/1153
Section
Full communications
Articles of Biological Communications are open access distributed under the terms of the License Agreement with Saint Petersburg State University, which permits to the authors unrestricted distribution and self-archiving free of charge.