Ash composition of upper soil horizons and the biological parameters of the Tolyatti island pine forests' soils and their changes in result of action of forest fires
Ekaterina Maksimova

Department of Applied Ecology, Faculty of Biology, Saint Petersburg State University, 16th Liniya V. O., 29, Saint Petersburg, 199178, Russian Federation; Institute of Ecology of Volga River Basin, Tolyatti, Russian Federation

https://orcid.org/0000-0002-2449-2180

Evgeny Abakumov

Department of Applied Ecology, Faculty of Biology, Saint Petersburg State University, 16th Liniya V. O., 29, Saint Petersburg, 199178, Russian Federation; Institute of Ecology of Volga River Basin, Tolyatti, Russian Federation

https://orcid.org/0000-0002-5248-9018
Abstract
The article is devoted to research of postpyrogenic soil changes depending on type of forest fires and time. The aim of this work is to obtain and analyze data characterizing disturbances and changes in soil properties and their post-fire dynamics in relation to the pyrogenic effect in order to perform an objective ecological assessment of the current state of environmental soil forest landscape. The objects of the research are postpyrogenic pine forest soils of steppe island pine forests near Togliatti city in Samara region subjected to the catastrophic pyrogenic effects in the natural disaster in Russia in 2010. The soil unaffected by the fire is characterized by the greatest content of soil microbial biomass in the top horizon and, respectively, the bigger index of bazal respiration, whereas a reduction of both parameters is noted in postfire soils. Thus, as a result of the fires there is a depression of microbial community. Furthermore, the increase of metabolic rate (the proportion of carbon dioxide emissions in relation to the microbial biomass) in the soils subjected to fires in comparison with the control soil was noted. Refs 28. Figs 1. Таbles 3.
Keywords:
soils, wildfires, postpyrogenic successions, post-fire soil properties changes, metabolic rate, soil microbial biomass, bazal respiration, ash content
Downloads
Download data is not yet available.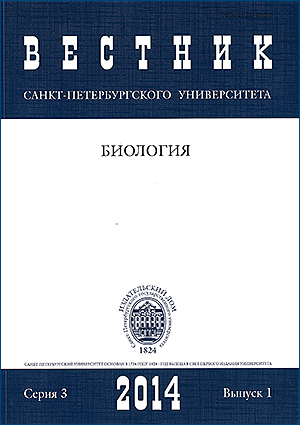 How to Cite
Maksimova, E., & Abakumov, E. (2014). Ash composition of upper soil horizons and the biological parameters of the Tolyatti island pine forests' soils and their changes in result of action of forest fires. Biological Communications, (1), 132–143. Retrieved from https://biocomm.spbu.ru/article/view/1155
Section
Full communications
Articles of Biological Communications are open access distributed under the terms of the License Agreement with Saint Petersburg State University, which permits to the authors unrestricted distribution and self-archiving free of charge.