Content of available forms of nitrogen, potassium and phosphorus in ornithogenic and other soils of the Fildes Peninsula (King George Island, Western Antarctica)
Evgeny Abakumov

Department of Applied Ecology, Faculty of Biology, Saint Petersburg State University, 16th Liniya V. O., 29, Saint Petersburg, 199178, Russian Federation

https://orcid.org/0000-0002-5248-9018
Abstract
Maritime Antarctica is an interesting object for soil scientists because most of them nowadays or recently were exposed to ornitogenic effect. Soils of the Fildes Peninsula have been investigated in terms of chemical composition and available nutrients concentration. Four groups of soils with various ornitogenic effect were selected for chemical analyses: current ornitogenic soils, soils of former birds habitats — organogenic mates, natural soils without current evident bird effect — Lithosols and Technosols. Ornitogenic effect is evident in soil formation in three types of soils investigated. The maximum effect of organic matter transportation and accumulation is pronounced in Ornitogenic soils and Organogenic mat. The last one are considered as recently been colonized by birds and this fact was the reason for initiation of formation of organogenic mats due to accumulation of nutrients. Some residual effect of birds can be revealed in Lithosols, where increased content of ammonium ions and available phosphorus was fixed. Thechnosols as soils constructed from local mineral grounds have no any evidences of ornitogenic accumulation. We suggest that, majority of soils, situated on Fildes peninsula recently were exposed to ornitogenic effect. Ornitogenic effect resulted in formation of modern soil cover of the Fildes Peninsula.
Keywords:
Antarctica, ornithogenic soils, nutrients, nitrogen, phosphorus, potassium
Downloads
Download data is not yet available.
References
Campbell, I. B. and Claridge, G. G. C. 1987. Antarctica: Soils, Weathering Processes and Environment. Elsevier: Amsterdam. 368 pp.
EPA method 350.1. Determination of Ammonia Nitrogen by automated colorimetry. Revision 2.0. August 1993.
GOST 26489-85 Soils. Determination of exchangeable ammonium by CINAO method.
GOST 54650-2011 Soils. Determination of mobile phosphorus and potassium compounds by Kirsanov method modified by CINAО
IUSS Working Group WRB 2015. World Reference Base for Soil Resources 2014, update 2015.
International soil classification system for naming soils and creating legends for soil maps. World Soil Resources Reports No. 106. FAO, Rome
Kuo, S. 1996. Phosphorus; pp. 869–919 in: Bartels J. M. and Bigham J. M. (eds.). Methods of Soil Analysis, 3. Chemical Methods. Madison: Soil Science Society of America.
Smellie J. L., Pankhurst R. J., Thomson M. R. A., Davies R. E. S., 1984. The geology of the South Shetland Islands: VI. Stratigraphy, geochemistry and evolution. Cambridge, British Antarctic Survey, 85 pp. (British Antarctic Survey Scientific Reports, 87).
Zhao, Ye. 2000. The soil and environment in the Fildes Peninsula of Kind George Island, Antarctica. China, Bejing. 187 pp.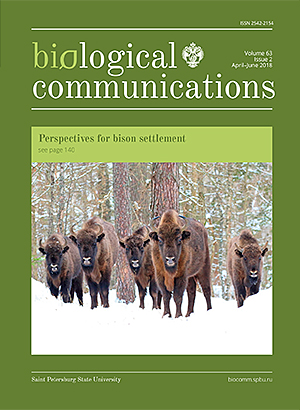 How to Cite
Abakumov, E. (2018). Content of available forms of nitrogen, potassium and phosphorus in ornithogenic and other soils of the Fildes Peninsula (King George Island, Western Antarctica). Biological Communications, 63(2), 109–116. https://doi.org/10.21638/spbu03.2018.203
Section
Full communications
Articles of Biological Communications are open access distributed under the terms of the License Agreement with Saint Petersburg State University, which permits to the authors unrestricted distribution and self-archiving free of charge.