Analysis of the polydispersity of soil-like bodies in glacier environments by the laser light scattering (diffraction) method
Evgeny Abakumov

Department of Applied Ecology, Faculty of Biology, Saint Petersburg State University, 16 liniya V. O., 29, Saint Petersburg, 199178, Russian Federation

https://orcid.org/0000-0002-5248-9018

Timur Nizamutdinov

Department of Applied Ecology, Faculty of Biology, Saint Petersburg State University, 16 liniya V. O., 29, Saint Petersburg, 199178, Russian Federation

https://orcid.org/0000-0003-2600-5494

Viacheslav Polyakov

Department of Applied Ecology, Faculty of Biology, Saint Petersburg State University, 16 liniya V. O., 29, Saint Petersburg, 199178, Russian Federation; Arctic and Antarctic Research Institute, ul. Beringa, 38, Saint Petersburg, 199397, Russian Federation

https://orcid.org/0000-0001-6171-3221
Abstract
This study presents the results of polydispersity analysis of soil-like bodies from two various polar regions using the laser light scattering method. The differences in the particle size distribution of cryoconite samples from the Anuchin Glacier (Antarctica) and the Mushketov Glacier (Arctic) are described. The samples obtained from the Mushketov Glacier are characterized by a finer particle size distribution than samples collected on the Anuchin Glacier. While comparing our results with previously published studies, it was found that the method of laser light scattering shows a lower content of small fractions (<0.05 mm) compared to the classical methods of sedimentation, since these methods are based on fundamentally different physical principles. The laser method used requires low amounts of samples (0.2–0.5 g), while the classical sedimentary method uses a higher gravimetric portion of cryoconite (5–10 g), which is critical for field sampling.
Keywords:
soloids, cryoconites, Anuchin Glacier, Mushketov Glacier
Downloads
Download data is not yet available.
References
Bolshiyanov, D. and Makeev, V. 1995. The Severnaya Zemlya Archipelago: glaciation, history of the natural environment. St. Petersburg: Gidrometeoizdat. 217 p. (In Russian)
Di Mauro, B., Baccolo, G., Garzonio, R., Piazzalunga, A., Massabò, D., and Colombo, R. 2016. Mountain glaciers darkening: geochemical characterizazion of cryoconites and their radiative impact on the Vadret da Morteratsch (Swiss Alps). EGU General Assembly Conference Abstracts: EPSC2016-9654.
ESRI. "Topographic". February 19, 2012. Scale Not Given. "World Topographic Map".
Gagarina, E. I. 2004. Lithological factor of soil formation (on the example of the Northwest of the Russian Plain). St. Petersburg: St Petersburg University Press. (In Russian)
Goldberg, E. D. 1985. Black carbon in the environment: properties and distribution.
GPM. 2016. GPM 1.2.1.0008.15 Determination of particle size distribution by laser light diffraction. (In Russian)
Jahn, R., Blume, H., Asio, V., Spaargaren, O., and Schad, P. 2006. Guidelines for soil description: FAO.
Kachinsky, N. 1958. Mechanical and microaggregate composition of soil, methods of its study.
Kowalski, B. and Andrianova, G. 1970. Micronutrients in soils of the USSR/Academy of Sciences of the USSR. Scientific Council on problems of microelements in animal husbandry and crop production. (In Russian)
Shein, E. 2005. Soil physics course. Moscow: Moscow University Press. (In Russian)
Shishkov, V., Zazovskaya, E., Mergelov, N., and Dolgikh, A. 2017. Soils forming on cryoconites material in the retreat zone of the glacier. Earth's Cryosphere: Past, Present and Future: International Conference. Russia, Pushino 5–8.06.2017.
Shishkov, V. A., Zazovskaya, E. P., Lebedeva, M. P., Mergelov, N. S., and Dolgikh, A. V. 2016. Micromorphology of soils on cryoconites in extreme environmental conditions formed in the area of Aldegond glacier retreat (Western Spitzbergen). Morfologiya pochv: ot makro- do submikrourovnya: all Russian conference. Russia, Moscow 19–21.12.2016. (In Russian)
Usyagina, I., Ilyin, G., Mescheryakov, N., and Valuyskaya, D. 2019. Sources of natural and artificial radionuclides in the Svalbard Archipelago. Ekologicheskaya, promyshlennaya i energeticheskaya bezopasnost' – 2019: all Russian Conference Russia, Sevastopol 23–26.09.2019. (In Russian)
WRB, I. W. G. 2015. World reference base for soil resources 2014, update 2015: International soil classification system for naming soils and creating legends for soil maps: FAO, Rome.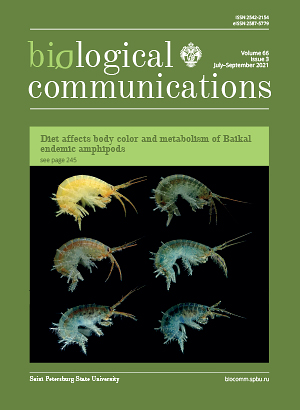 How to Cite
Abakumov, E., Nizamutdinov, T., & Polyakov, V. (2021). Analysis of the polydispersity of soil-like bodies in glacier environments by the laser light scattering (diffraction) method. Biological Communications, 66(3), 198–209. https://doi.org/10.21638/spbu03.2021.302
Section
Full communications
Articles of Biological Communications are open access distributed under the terms of the License Agreement with Saint Petersburg State University, which permits to the authors unrestricted distribution and self-archiving free of charge.