N. A. Minyaev — florogenetist, systematist, pedagogue (1909–1995)
Valentina Bubyreva

Saint Petersburg State University, 7–9, Universitetskaya nab., Saint Petersburg, 199034, Russian Federation

Tamara Teplyakova

Russian Academy of Science, Scientific Research Centre for Ecological Safety, Russian Federation
Abstract
The paper is devoted to a famous botanist, Doctor of Biology N.A. Minyaev (1909–1995). The data provided describes his family, education at the University, his work at Plant Cultivation Institute and in Botany Department of St. Petersburg University. His scientific views on the history of flora of Russian North-West based on the migration-genetical elements of flora are examined. In addition, the article discusses groups of elements, the ways and time of their migration to the territory under question. It draws a conclusion that the today`s regional flora is mainly combined with flora of Miculin interglacial period, namely with those representatives which remained in periglacial zone during maximal stage of Valdai glacial period.
Keywords:
botany, flora, N. A. Minyaev, history of flora, Russian North-West, migration-genetical elements of flora
Downloads
Download data is not yet available.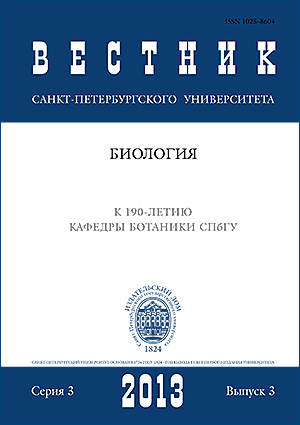 How to Cite
Bubyreva, V., & Teplyakova, T. (2013). N. A. Minyaev — florogenetist, systematist, pedagogue (1909–1995). Biological Communications, (3), 167–178. Retrieved from https://biocomm.spbu.ru/article/view/1373
Section
Full communications
Articles of Biological Communications are open access distributed under the terms of the License Agreement with Saint Petersburg State University, which permits to the authors unrestricted distribution and self-archiving free of charge.