Proton pump and plant cell elongation
Anastasia Kirpichnikova

Department of Plant Physiology and Biochemistry, Faculty of Biology, Saint Petersburg State University, Universitetskaya nab., 7–9, Saint Petersburg, 199034, Russian Federation

https://orcid.org/0000-0001-5133-5175

Tingzhuo Chen

Department of Plant Physiology and Biochemistry, Faculty of Biology, Saint Petersburg State University, Universitetskaya nab., 7–9, Saint Petersburg, 199034, Russian Federation

https://orcid.org/0000-0001-5143-6128

Serafima Teplyakova

Department of Plant Physiology and Biochemistry, Faculty of Biology, Saint Petersburg State University, Universitetskaya nab., 7–9, Saint Petersburg, 199034, Russian Federation

Maria Shishova

Department of Plant Physiology and Biochemistry, Faculty of Biology, Saint Petersburg State University, Universitetskaya nab., 7–9, Saint Petersburg, 199034, Russian Federation

https://orcid.org/0000-0003-3657-2986
Abstract
Plant cell elongation growth is an integral process involved in different plant movements (tropisms); it provides the possibility to reach different resources of energy, water and nutrition and is therefore important for metabolism and development. Cell multiple enlargement along the longitudinal axis is commonly accepted to be under the control of the phytohormone auxin. One of the key enzymes involved in elongation is the plasma membrane H+-ATPase, which is known to acidify the cell wall. Investigation of the role of the proton pump at the plasma membrane was initiated by Prof. Vsevolod V. Polevoi and still is in progress in the group of Prof. Maria F. Shishova at the Department of Plant Physiology and Biochemistry, St. Petersburg State University. Different mechanisms of post-translation regulation of H+-pump activity are discussed in this review. We also suggest a possible scheme of elongation growth based on the shift in plant cell sensitivity to auxin and on its facility to elongate.
Keywords:
H -pump, plasma membrane, elongation growth, auxin, phosphorylation, exocytosis
Downloads
Download data is not yet available.
References
Polevoi, V. 1986. Rol' auksina v sistemakh regulyatsii u rastenii [Role of Auxin in Regulatory Systems of Plants]. Nauka Publishing, Leningrad.
Polevoi, V. V., and Salamatova T. A. 1977. Auxin, proton pump and cell trophics; pp. 209–216 in E. Marre, O. Ciferri (eds.), Regulation of cell membrane activities in plants. Elsevier, Amsterdam.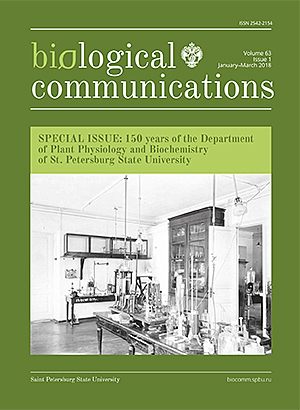 How to Cite
Kirpichnikova, A., Chen, T., Teplyakova, S., & Shishova, M. (2018). Proton pump and plant cell elongation. Biological Communications, 63(1), 32–42. https://doi.org/10.21638/spbu03.2018.105
Section
Review communications
Articles of Biological Communications are open access distributed under the terms of the License Agreement with Saint Petersburg State University, which permits to the authors unrestricted distribution and self-archiving free of charge.