Comparison of two systems of tonoplast purification from tobacco cells of suspension culture BY-2
Abstract
The tonoplast is an intracellular membrane, important for numerous functions of the vacuoles in plant cells. Transport, signaling, enzymatic activity and other processes of the tonoplast are the focus of a wide spectrum of studies. Multiple advanced analyses demand highly purified vacuoles or vesicles of the tonoplast membrane fraction. Since 1960 several approaches have been developed for such purification, but new goals and new model objects require adjustment of already existing techniques. The presented investigation aimed to compare two methods of tonoplast membrane fraction purification from tobacco suspension cell culture BY-2 (Nicotiana tabacum L., cv Bright Yellow) based on sucrose and sucrose/sorbitol gradients. The functional activity of obtained purified tonoplast fractions was measured by the hydrolytic activity of vacuolar H+-ATPase and H+-PPase.
Keywords:
tonoplast, vesicle fraction, purification, V-ATPase, H -PPase
Downloads
Download data is not yet available.
References
Boldyrev, A. A. 1990. Introduction to biomembranology. Izdatelstvo MGU, Moscow. 208 p. (In Russian)
Tankelyun, O. V., Chirkova, T. V., Tishchenko, N. N., and Magomedov, I. M. 1986. Enzymes. pp. 50–71. in V. V. Polevoy, G. B. Maksimov, and N. F. Sinyutina (Eds.) Methods for the study of plant cell membranes. Izdatelstvo Leningradskogo Universiteta, Leningrad. (In Russian)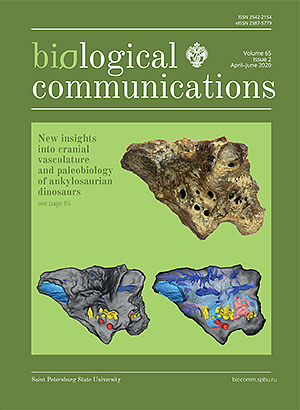 How to Cite
ChenТ., Kirpichnikova, A., Mikhaylova, Y., & Shishova, M. (2020). Comparison of two systems of tonoplast purification from tobacco cells of suspension culture BY-2. Biological Communications, 65(2), 178–186. https://doi.org/10.21638/spbu03.2020.204
Section
Full communications
Articles of Biological Communications are open access distributed under the terms of the License Agreement with Saint Petersburg State University, which permits to the authors unrestricted distribution and self-archiving free of charge.