Changes in quantitative and qualitative characteristics of blood testify to the realization of compensatory mechanisms of rats to changes in the magnetic field of the Earth (model experiments)
Dmitrii Ivkin

Saint Petersburg State Chemical-Pharmaceutical Academy, Saint Petersburg, 197376, Russian Federation

Tatiana Grishina

Saint Petersburg State University, 7–9, Universitetskaya nab., Saint Petersburg, 199034, Russian Federation

Anna Buryakina

Saint Petersburg State Chemical-Pharmaceutical Academy, Saint Petersburg, 197376, Russian Federation

Oksana Kriatchko

Saint Petersburg State Academy of Veterinary Medicine, Saint Petersburg, 196084, Russian Federation

Nataliya Kuz'menko

V. Almazov Federal Heart, Blood and Endocrinology Centre, 197341, Saint Petersburg, Russian Federation

Olga Vasil'eva

Federal Construction Material Institute "Prometey", 191015, Saint Petersburg, Russian Federation

Vasily Stefanov

Saint Petersburg State University, 7–9, Universitetskaya nab., Saint Petersburg, 199034, Russian Federation

Sergey Surma

I. Pavlov Institute of Physiology RAS, Saint Petersburg, 199034, Russian Federation

Boris Shchegolev

I. Pavlov Institute of Physiology RAS, Saint Petersburg, 199034, Russian Federation
Abstract
The impact produced on rat blood corpuscles by attenuated geomagnetic field was investigated in model experiments with the use of specially designed shielding and imitation chambers. The shielding chamber, intended to provide 40-fold attenuation of the magnetic field, was made in the form of a cylinder covered with several layers of amorphous soft magnetic nanocrystalline material AMAG-172. We observed reliable granulocytopenia effect and tendency to erythropenia, indicators of bone marrow suppression, which were apparently caused by changes in the physical characteristics of the environment. We showed that via changes of their quantitative and qualitative characteristics blood corpuscles execute compensatory function aimed at reducing the effects of external magnetic field. Thus, we conclude that the response of the hemostasis system depends not only on species peculiarities but also on the magnitude of the attenuated geomagnetic field and duration of the animal's exposure to it. Data were obtained demonstrating that there must be one week delay in the reaction of the organism on the external influence connected with placing the animal in shielding and imitation chambers. Refs 10. Figs 5.
Keywords:
shielding of geomagnetic field, blood corpuscles, organism adaptation
Downloads
Download data is not yet available.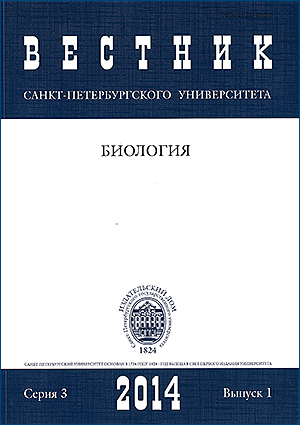 How to Cite
Ivkin, D., Grishina, T., Buryakina, A., Kriatchko, O., Kuz'menko, N., Vasil'eva, O., Stefanov, V., Surma, S., & Shchegolev, B. (2014). Changes in quantitative and qualitative characteristics of blood testify to the realization of compensatory mechanisms of rats to changes in the magnetic field of the Earth (model experiments). Biological Communications, (1), 87–97. Retrieved from https://biocomm.spbu.ru/article/view/1152
Section
Full communications
Articles of Biological Communications are open access distributed under the terms of the License Agreement with Saint Petersburg State University, which permits to the authors unrestricted distribution and self-archiving free of charge.