Is the hormone a protease? Proteolytic properties of human recombinant anti-mullerian hormone
Alexandra Rak

State Research Institute for Highly Pure Biopreparations, Pudozhskaya Str., 7, Saint Petersburg, 197110, Russian Federation; Saint Petersburg State University, Universitetskaya nab., 7–9, Saint Petersburg, 199034, Russian Federation

https://orcid.org/0000-0001-5552-9874

Alexander Trofimov

State Research Institute for Highly Pure Biopreparations, Pudozhskaya Str., 7, Saint Petersburg, 197110, Russian Federation

Vasily Stefanov

Saint Petersburg State University, Universitetskaya nab., 7–9, Saint Petersburg, 199034, Russian Federation

https://orcid.org/0000-0002-7407-8236

Alexander Ischenko

State Research Institute for Highly Pure Biopreparations, Pudozhskaya Str., 7, Saint Petersburg, 197110, Russian Federation
Abstract
Anti-mullerian hormone (AMH) is a glycoprotein of the TGFβ cytokine superfamily that regulates the development of the mammalian reproductive system, as well as the functioning of mature gonads. Recombinant AMH (rAMH) is also able to induce apoptosis of malignant cells bearing AMH type II receptors (MISRII) on the surface. Development of rAMH-based anticancer drugs is hampered by the lack of accurate information about the tissues where the AMH active form is generated and about the enzyme that activates the hormone by specific proteolysis. According to one hypothesis, the proteolytic processing of the hormone is autocatalytic. The goal of this work was to investigate the proteolytic activity of rAMH and its biologically active form — C-terminal AMH fragment (C-AMH). We showed that two forms of the hormone possess both autoproteolytic activity and the ability to influence the structure of other proteins. A full-length molecule of the hormone, as well as C-AMH, also forms complexes with aprotinin, an inhibitor of trypsin-like serine proteases. We determined that aprotinin competes for binding to C-AMH with antibodies blocking C-AMH interaction with MISRII. The obtained data suggest that AMH has protease properties and that the site of specific AMH autoproteolysis is involved in the interaction of the hormone with a specific receptor.
Keywords:
anti-mullerian hormone, AMH, aprotinin, autoproteolysis, MIS, protease, recombinant protein
Downloads
Download data is not yet available.
References
Kartuzova, V. E., Trofimov, A. V., Ischenko, A. M., Rodin, S. V., Zhakhov, A. V., Klimov, N. A., Petrov, A. V., and Karasev, M. M. 2016. Monoclonal antibody CC3-4 to conformational epitope of human C3, strain of mouse hybrid DNA RKKK(P)764D – producer of monoclonal antibody CC3-4. Patent RU № 2584582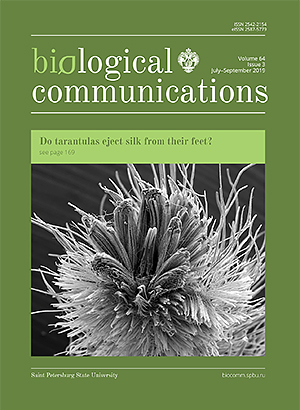 How to Cite
Rak, A., Trofimov, A., Stefanov, V., & Ischenko, A. (2019). Is the hormone a protease? Proteolytic properties of human recombinant anti-mullerian hormone. Biological Communications, 64(3), 201–210. https://doi.org/10.21638/spbu03.2019.304
Section
Full communications
Articles of Biological Communications are open access distributed under the terms of the License Agreement with Saint Petersburg State University, which permits to the authors unrestricted distribution and self-archiving free of charge.