Biological effects of weakened geomagnetic field on hemodynamic characteristics of Wistar stock rats
Nataliya Kuz'menko

V. Almazov Federal Heart, Blood and Endocrinology Centre, 197341, Saint Petersburg, Russian Federation

Sergey Surma

I. Pavlov Institute of Physiology RAS, Saint Petersburg, 199034, Russian Federation

Vasily Stefanov

Saint Petersburg State University, 7–9, Universitetskaya nab., Saint Petersburg, 199034, Russian Federation

Olga Vasil'eva

Federal Construction Material Institute "Prometey", 191015, Saint Petersburg, Russian Federation

Boris Shchegolev

I. Pavlov Institute of Physiology RAS, Saint Petersburg, 199034, Russian Federation
Abstract
Physiological effects of 40 times weakened geomagnetic field achieved by shielding were studied on rats (st. Wistar). Systolic arterial pressure and intersystolic gap were recorded and spectrum analysis for heart beat variability was performed. It was shown that already during two first days of shielding one could watch an essential decrease in heart beat rate and increase in high-frequency (parasympathetic) component of its spectra variation. Increased parasympathetic nervous system activity was registered. Adaptation of animals to the conditions of weakened geomagnetic field during a 2-week period was recorded.
Keywords:
shielding of geomagnetic field, systolic arterial pressure, intersystolic gap, heart beat variability
Downloads
Download data is not yet available.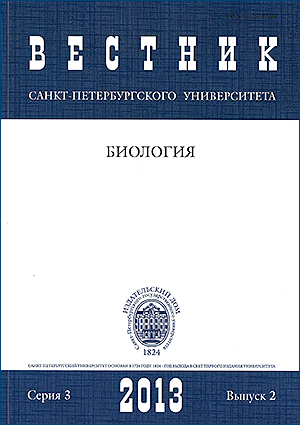 How to Cite
Kuz'menko, N., Surma, S., Stefanov, V., Vasil'eva, O., & Shchegolev, B. (2013). Biological effects of weakened geomagnetic field on hemodynamic characteristics of Wistar stock rats. Biological Communications, (2), 64–69. Retrieved from https://biocomm.spbu.ru/article/view/2642
Section
Full communications
Articles of Biological Communications are open access distributed under the terms of the License Agreement with Saint Petersburg State University, which permits to the authors unrestricted distribution and self-archiving free of charge.