Musculature and innervation of the pygidium in Eunicida (Annelida: Errantia)
Viktor Starunov

Department of Invertebrate Zoology, Saint Petersburg State University, Universitetskaya nab., 7–9, 199034, Saint Petersburg, Russian Federation; Zoological Institute, Russian Academy of Sciences, Universitetskaya nab., 1, 199034, Saint Petersburg, Russian Federation

https://orcid.org/0000-0002-9001-2069
Abstract
The pygidium is a terminal part of the annelid body that is considered non-homologous to body segments. Despite the high level of morphological diversity, the internal morphology of the pygidial region is very poorly studied. Recent research revealed that in some errant annelids the pygidium possesses complex musculature and innervation. To provide new data for the comparative analysis of pygidial organization, the musculature and innervation in the pygidial region in five annelid species belonging to the order Eunicida were studied using phalloidin labeling, immunohistochemistry and confocal scanning microscopy. In all studied species the pygidial musculature consists of a circular or horseshoe-shaped muscle. The pygidial innervation comprises two pairs of main longitudinal nerves and paired circumpigidial nerves. The single pair of longitudinal nerves in Ophryotrocha irinae may be regarded as a secondary loss. In Schistomeringos japonica a small terminal commissure between longitudinal nerves was found. The finding of numerous receptor cell endings in the surface of the pygidium suggests its important sensory function. Comparison with Phyllodocida demonstrates the high level of similarities in the pygidial organization and the loss of the terminal commissure in Eunicida.
Keywords:
Annelida, Eunicida, nervous system, musculature, confocal microscopy
Downloads
Download data is not yet available.
References
Harrison, F. W. 1992. Microscopic Anatomy of Invertebrates, Volume 7, Annelida. Wiley-Liss, New York, Chichester, Weinheim, Brisbane, Singapore, Toronto.
Hartmann-Schröder, G. 1996. Annelida, Borstenwürmer, Polychaeta: Tierwelt Deuchlands, Tiel 58. Veb Gustav Fischer Verlag, Jena, Hamburg.
Jirkov, I. A. 2001. Polychaeta of the Arctic Ocean. Janus-K, Moscow.
Ushakov, P. V. 1955. Mnogostchetinkovije tchervi dalnevostotchnikh morej SSSR (Polychaeta), [Polychaete worms of the far-eastern Seas of the USSR]. 445p. Izdatelstvo Academii Nauk SSSR, Moscow, Leningrad.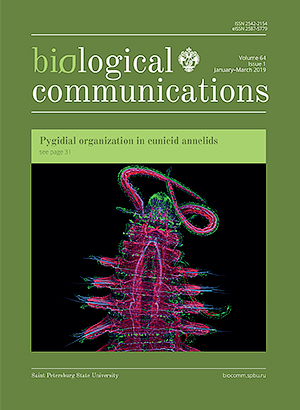 How to Cite
Starunov, V. (2019). Musculature and innervation of the pygidium in Eunicida (Annelida: Errantia). Biological Communications, 64(1), 31–40. https://doi.org/10.21638/spbu03.2019.104
Section
Full communications
Articles of Biological Communications are open access distributed under the terms of the License Agreement with Saint Petersburg State University, which permits to the authors unrestricted distribution and self-archiving free of charge.