The digenean complex life cycle: phylostratigraphy analysis of the molecular signatures
Abstract
The parasitic flatworms from Digenea group have been the object of numerous in-depth studies for several centuries. The question of the evolutionary origin and transformation of the digenean complex life cycle remains relevant and open due to the biodiversity of these parasites and the absence of fossil records. However, modern technologies and analysis methods allow to get closer to understanding the molecular basis of both the realization of the cycle and its complication. In the present study, we have applied phylostratigraphy and evolutionary transcriptomics approaches to the available digenean genomic and transcriptomic data and built ancestral genomes models. The comparison results of Platyhelminthes and Digenea ancestor genome models made it possible to identify which genes were gained and duplicated in the possible genome of digenean ancestor. Based on the bioprocesses enrichment analysis results, we assumed that the change in the regulation of many processes, including embryogenesis, served as a basis for the complication of the ancestor life cycle. The evolutionary transcriptomics results obtained revealed the "youngest" and "oldest" life cycle stages of Fasciola gigantica, F. hepatica, Psilotrema simillimum, Schistosoma mansoni, Trichobilharzia regenti, and T. szidati. Our results can serve as a basis for a more in-depth study of the molecular signatures of life cycle stages and the evolution transformation of individual organ systems and stage-specific traits.
Keywords:
flatworms, Digenea, complex life cycle, molecular signature, phylostratigraphy, evolutionary transcriptomics
Downloads
Download data is not yet available.
References
Galaktionov, K. V. and Dobrovolskij, A. A. 2003. The biology and evolution of trematodes. Kluwer Academic Publ., St Petersbug.
Littlewood, D. T. J. 2006. Parasitic flatworms: molecular biology, biochemistry, immunology and physiology. Cabi Publishing-C a B Int. 480 pp.
Zakhvatkin, A. A. 1949. The comparative embryology of the low invertebrates. Sources and method of the origin of metazoan development. Moscow, Soviet Science. (In Russian)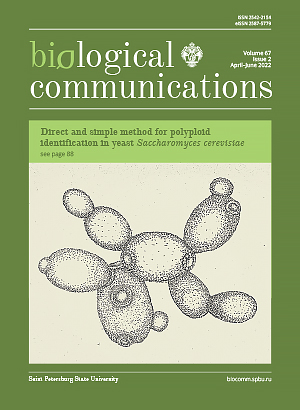 How to Cite
Nesterenko, M., Shchenkov, S., Denisova, S., & Starunov, V. (2022). The digenean complex life cycle: phylostratigraphy analysis of the molecular signatures. Biological Communications, 67(2), 65–87. https://doi.org/10.21638/spbu03.2022.201
Section
Full communications
Articles of Biological Communications are open access distributed under the terms of the License Agreement with Saint Petersburg State University, which permits to the authors unrestricted distribution and self-archiving free of charge.