Proliferation activity in the polyps of Cassiopea xamachana: where the planuloid buds grow
Valeriia Khabibulina

Department of Invertebrate Zoology, Faculty of Biology, Saint Petersburg State University, Universitetskaya nab., 7–9, Saint Petersburg, 199034, Russian Federation

https://orcid.org/0000-0002-5019-8604

Viktor Starunov

Zoological Institute, Russian Academy of Sciences, Universitetskaya nab., 1, 199034, Saint Petersburg, Russian Federation

https://orcid.org/0000-0002-9001-2069
Abstract
Polyps of the Cassiopeidae family possess a unique type of asexual reproduction by producing free-swimming buds — planuloids. The process of planuloid development and transformation to polyp has been described earlier, however, the source of tissue formation is still poorly studied. Using the method of EdU incorporation we have analyzed DNA synthesis activity during planuloid formation and growth in Cassiopea xamachana. We revealed the active proliferation zone at the early stage of bud formation. This zone continued to function during planuloid growth, providing the formation of polyp structures, and preserved in polyp calyx after metamorphosis. Its proliferation activity varied at different growth stages, whereas the localization remained relatively the same.
Keywords:
cnidaria, budding, development, polyp, scyphozoa, proliferation, asexual reproduction
Downloads
Download data is not yet available.
References
Boero, F., Bouillon, J., Piraino, S., and Schmid, V. 2002. Asexual reproduction of the Hydrozoa (Cnidaria); pp. 141–159 in Progress in asexual reproduction. Chichester: John Wiley & Sons, Ltd.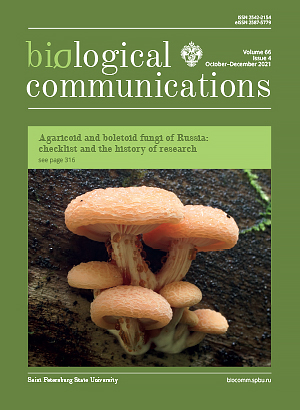 How to Cite
Khabibulina, V., & Starunov, V. (2021). Proliferation activity in the polyps of <em>Cassiopea xamachana</em&gt;: where the planuloid buds grow. Biological Communications, 66(4), 333–340. https://doi.org/10.21638/spbu03.2021.406
Section
Brief communications
Articles of Biological Communications are open access distributed under the terms of the License Agreement with Saint Petersburg State University, which permits to the authors unrestricted distribution and self-archiving free of charge.