Age-related changes of photosynthesis rate and assimilates export in Agathis brownii Lem. (Araucariaceae) perennial leaves
Alisa Arbicheva

Saint Petersburg State University, 7–9, Universitetskaya nab., Saint Petersburg, 199034, Russian Federation

Anatoly Pautov

Saint Petersburg State University, 7–9, Universitetskaya nab., Saint Petersburg, 199034, Russian Federation

https://orcid.org/0000-0001-7603-4539

Olga Voitsekhovskaja

V. L. Komarov Botanical Institute of the RAS, 2, ul. Professora Popova, St. Petersburg, 197376, Russian Federation

https://orcid.org/0000-0003-0966-1270
Abstract
Perennial leaves of Agathis brownii remain alive on the stems for over 10 years. The article shows that the photosynthetic gas exchange rate of the leaves of A. brownii decreased with leaf age while the amount of photosynthetic pigments increased, which makes it possible to characterize the 7-years-old as "more shadow" comparing to the first-year-leaves. The number of sieve cells with preserved structure decreases with the age of the leaves which is accompanied with a drop in the phloem loading rate. The source function of several-years-old leaves thus diminishes but their positive carbon balance is probably maintained.
Keywords:
Agathis brownii, photosynthesis, photosynthetic pigments, phloem loading, vascular bundles, assimilation
Downloads
Download data is not yet available.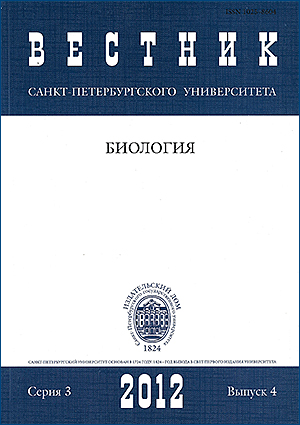 How to Cite
Arbicheva, A., Pautov, A., & Voitsekhovskaja, O. (2012). Age-related changes of photosynthesis rate and assimilates export in <em>Agathis brownii</em&gt; Lem. (Araucariaceae) perennial leaves. Biological Communications, (4), 20–26. Retrieved from https://biocomm.spbu.ru/article/view/3196
Section
Full communications
Articles of Biological Communications are open access distributed under the terms of the License Agreement with Saint Petersburg State University, which permits to the authors unrestricted distribution and self-archiving free of charge.