The distribution of aborted stomata in the leaf blade epidermis Gnetum gnemon (Gnetaceae)
Anatoly Pautov

Saint Petersburg State University, 7–9, Universitetskaya nab., Saint Petersburg, 199034, Russian Federation

https://orcid.org/0000-0001-7603-4539

Ianina Pagoda

Saint Petersburg State University, 7–9, Universitetskaya nab., Saint Petersburg, 199034, Russian Federation

https://orcid.org/0000-0002-0378-0773
Abstract
The epidermal structure of Gnetum gnemon leaf blade has been examined. Its description including estimation of the size and shape of epidermal cells, stomatal types, their spectrum and stomatal index is provided. A lot of aborted stomata that accounts for a quarter from the total number of ones in epidermis were detected. The comparison of definite parts of blade showed that they are similar in spectrum of stomatal types and ratio of differentiated and aborted stomata. It makes an assumption that a majority of aborted stomata develop from part of meristemoids, which emerge in epidermis in the period of mass initiation of paracytic stomata. Refs 25. Figs 4. Tables 2.
Keywords:
leaf, epidermis, heterostomaty, aborted stomata, correlations
Downloads
Download data is not yet available.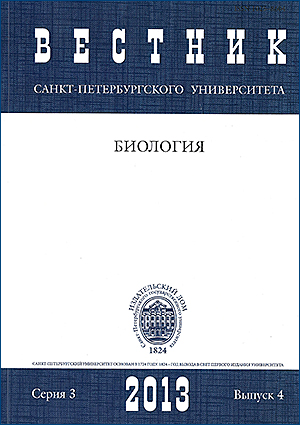 How to Cite
Pautov, A., & Pagoda, I. (2013). The distribution of aborted stomata in the leaf blade epidermis <em>Gnetum gnemon</em&gt; (Gnetaceae). Biological Communications, (4), 26–33. Retrieved from https://biocomm.spbu.ru/article/view/1322
Section
Full communications
Articles of Biological Communications are open access distributed under the terms of the License Agreement with Saint Petersburg State University, which permits to the authors unrestricted distribution and self-archiving free of charge.