Structural botany at St. Petersburg (Leningrad) University
Anatoly Pautov

Saint Petersburg State University, 7–9, Universitetskaya nab., Saint Petersburg, 199034, Russian Federation

https://orcid.org/0000-0001-7603-4539

Marina Romanova

Saint Petersburg State University, 7–9, Universitetskaya nab., Saint Petersburg, 199034, Russian Federation

Maksim Baranov

Saint Petersburg State University, 7–9, Universitetskaya nab., Saint Petersburg, 199034, Russian Federation
Abstract
The article describes development of structural botany within the walls of the St. Petersburg University as an independent academic discipline and research area. Information about the work in this area of A. S. Famintsyn, A. N. Beketov, O. N. Radkevich, V. K. Vasilevskaya, E. A. Kondratieva-Melville, B. R. Vasilyev and others is provided. Reference about the research conducted at the department at present time is given. It is focused mainly on the evaluation of the role of plants' systemic organization in phylomorphogenesis processes, as well as investigation of the histogenesis and the structure-functional organization of a number of tissues, especially the epidermis and hypodermis of flowering plants leaves, as well as the apical meristem of non-seed plants. The main results of ongoing studies are discussed.
Keywords:
morphology and anatomy of plants, morphogenesis, tissue, apical meristem, epidermis, hypodermis, stele, systemic organization
Downloads
Download data is not yet available.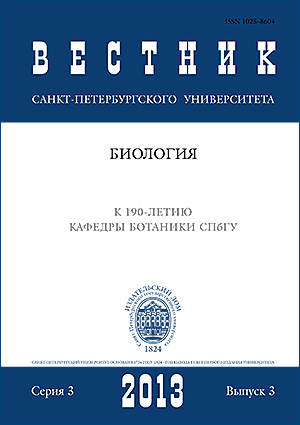 How to Cite
Pautov, A., Romanova, M., & Baranov, M. (2013). Structural botany at St. Petersburg (Leningrad) University. Biological Communications, (3), 59–84. Retrieved from https://biocomm.spbu.ru/article/view/1368
Section
Full communications
Articles of Biological Communications are open access distributed under the terms of the License Agreement with Saint Petersburg State University, which permits to the authors unrestricted distribution and self-archiving free of charge.