Thioflavin S binds non-amyloid protein structures in lampbrush chromosomes of Gallus gallus domesticus
Vera Siniukova

Vavilov Institute of General Genetics, Russian Academy of Sciences, Saint Petersburg Branch, Universitetskaya nab., 7–9, Saint Petersburg, 199034, Russian Federation

https://orcid.org/0000-0002-5505-4693

Svetlana Galkina

Department of Genetics and Biotechnology, Faculty of Biology, Saint Petersburg State University, Universitetskaya nab., 7–9, Saint Petersburg, 199034, Russian Federation

https://orcid.org/0000-0002-7034-2466

Alexey Galkin

Vavilov Institute of General Genetics, Russian Academy of Sciences, Saint Petersburg Branch, Universitetskaya nab., 7–9, Saint Petersburg, 199034, Russian Federation; Department of Genetics and Biotechnology, Faculty of Biology, Saint Petersburg State University, Universitetskaya nab., 7–9, Saint Petersburg, 199034, Russian Federation

https://orcid.org/0000-0002-7362-8857
Abstract
Proteins that normally function in amyloid form are found in bacteria, yeast, plants and vertebrates, including humans. In particular, amyloid fibrils and amyloid-like structures are described in the germ cells of various organisms. Recently we showed that in chicken oocytes there are some nuclear structures that are stained by the amyloid-specific dye thioflavin S. Here we demonstrate that thioflavin S binds giant terminal RNP aggregates in chicken lampbrush chromosomes. However, these structures are not stained with Congo red and conformation-dependent anti-amyloid antibodies. Thus, thioflavin S stains chromosome-associated proteins that do not have amyloid properties. These data indicate that thioflavin S must be used with caution when identifying new functional and pathological amyloids.
Keywords:
amyloid, thioflavin S, Congo red, anti-amyloid antibodies, chicken, lampbrush chromosomes
Downloads
Download data is not yet available.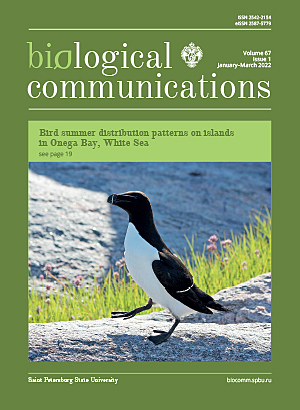 How to Cite
Siniukova, V., Galkina, S., & Galkin, A. (2022). Thioflavin S binds non-amyloid protein structures in lampbrush chromosomes of <em>Gallus gallus domesticus</em&gt;. Biological Communications, 67(1), 57–62. https://doi.org/10.21638/spbu03.2022.106
Section
Brief communications
Articles of Biological Communications are open access distributed under the terms of the License Agreement with Saint Petersburg State University, which permits to the authors unrestricted distribution and self-archiving free of charge.