Celebrating the Jubilee of Elena Gaginskaya — the founder of the Lampbrushology School in Saint Petersburg University
Abstract
Elena Gaginskaya is an outstanding scientist, doctor of biological sciences, professor, international expert, creator of the first core facility at St. Petersburg State University, and the founder of the Lampbrushology Scientific School. She celebrates her 85th birthday this year. Students, colleagues and friends congratulate Elena with all their hearts on her jubilee, and mark their devotion to her with this publication.
Keywords:
Jubilee, Elena Gaginskaya, lampbrush chromosomes
Downloads
Download data is not yet available.
References
Gaginskaya, Е. R. 1972. Nuclear structures in oocytes of sexually mature birds. Abstract of the Candidate's Dissertation. LGU, 23 pp.
Gaginskaya, Е. R., and Kalinina, E. I. 1982. Preleptotene condensation of chromosomes. In: Biohimia, genetika, tsitologiia meyoza. Moskovskoye Obschestvo Ispytateley Prirody: Мoscow. P. 97–102.
Gaginskaya, Е. R. 1989. Functional morphology of chromosomes in oogenesis of birds. Abstract of the Doctor of Science Dissertation. Leningrad, 35 pp.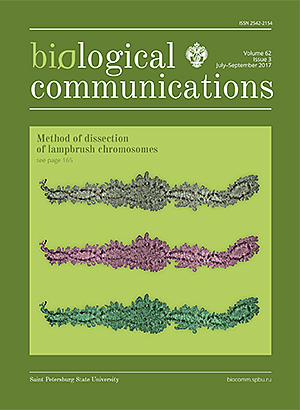 How to Cite
Saifitdinova, A., Koshel, E., Vishnevskaya, M., & Galkina, S. (2017). Celebrating the Jubilee of Elena Gaginskaya — the founder of the Lampbrushology School in Saint Petersburg University. Biological Communications, 62(3), 159–164. https://doi.org/10.21638/11701/spbu03.2017.301
Articles of Biological Communications are open access distributed under the terms of the License Agreement with Saint Petersburg State University, which permits to the authors unrestricted distribution and self-archiving free of charge.