Abscisic acid utilizing rhizobacteria disturb nitrogen-fixing symbiosis of pea Pisum sativum L.
Abstract
Rhizosphere bacteria are capable of utilizing various phytohormones (particularly auxins) as nutrients and thereby affect plant growth, nutrition and interactions with symbiotic microorganisms. Here, for the first time we evaluated the effects of rhizosphere bacteria Novosphingobium sp. P6W and Rhodococcus sp. P1Y capable of utilizing abscisic acid (ABA) on growth and nitrogen-fixing symbiosis of pea (Pisum sativum L.) line SGE and its Cd-insensitive mutant SGECdt using hydroponic culture. The plants were co-inoculated with the ABA-utilizing bacteria and nodule bacterium Rhizobium leguminosarum bv. viciae RCAM1066. Treatment with cadmium (Cd) was applied as an inducer of ABA biosynthesis in plants. In the presence of only nodule bacteria, Cd significantly inhibited the growth of roots and shoots and also decreased the nodule number and nitrogen-fixing activity in SGE peas, but not in the SGECdt mutant. Inoculation with ABA-utilizing bacteria also inhibited biomass production, nodulation and nitrogen-fixation of Cd-untreated SGE plants. This negative effect of bacteria on the SGECdt mutant was less pronounced. Contrary to this, ABA-utilizing bacteria had no effect on SGE plants treated with Cd, but decreased shoot biomass and nitrogen-fixing activity of the SGECdt mutant. Inoculation with ABA-utilizing bacteria had no effect on shoot Cd and nutrient content of both pea genotypes, suggesting that bacterial effects on plants were not associated with the plant nutrient status. We propose that the bacteria counteracted the increased ABA concentrations in SGE roots caused by Cd due to utilization of this phytohormone. However, opposite processes aimed at inhibiting and stimulating growth and legume–rhizobia symbiosis can be caused by the ABA-utilizing bacteria.
Keywords:
abscisic acid, cadmium, nitrogen fixation, nodulation, Novosphingobium, Rhodococcus, pea, phytohormones, PGPR, symbiosis
Downloads
Download data is not yet available.
References
Frankenberger, W. T., and Arshad, M. 1995. Phytohormones in soils: production and function. Marcel Dekker, Inc. N.Y. 503 pp.
Turner, G. L. and Gibson, A. H. 1980. Measurement of nitrogen fixation by indirect means; pp. 111–138 in: Bergensen, F. J. (ed.), Methods for Evaluating Biological Nitrogen Fixation. Wiley, Toronto.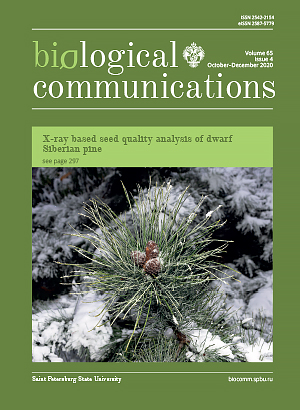 How to Cite
Belimov, A., Shaposhnikov, A., Safronova, V., & Gogolev, Y. (2020). Abscisic acid utilizing rhizobacteria disturb nitrogen-fixing symbiosis of pea <em>Pisum sativum</em&gt; L. Biological Communications, 65(4), 283–287. https://doi.org/10.21638/spbu03.2020.401
Section
Full communications
Articles of Biological Communications are open access distributed under the terms of the License Agreement with Saint Petersburg State University, which permits to the authors unrestricted distribution and self-archiving free of charge.