Beneficial aluminium immobilizing microorganisms inhabiting the rhizosphere of pea
Abstract
Acid soils contain elevated concentrations of mobile aluminium (Al) ions which are toxic for plants. Plants form symbioses with the rhizosphere microorganisms stimulating plant growth and affecting Al availability. Here, for the first time the approach based on the ability to immobilize Al in soil was applied for initial selection of beneficial rhizosphere microorganisms. Al-Immobilizing yeast Rhodotorula sp. AL1 and 12 bacterial strains assigned to various genera and species were isolated from the rhizosphere of pea cultivated in acid soils. Immobilization of Al was related to the increased pH of the environment and the formation of insoluble Al phosphates in soil. The strains differed in possessing beneficial properties such as modulation of the nutrient element (Ca, Fe, K, Mg, Mn, P) concentrations in soil, production of phytohormones (auxins, abscisic and gibberellic acids, ethylene), utilization of 1-aminocyclopropane-1-carboxylic acid and organic components typical for root exudates, acetylene reduction and antifungal activities. Eight strains promoted root elongation of radish seedlings by 30÷50 % with a maximal effect exerted by Cupriavidus basilensis strain D39. Taking together, the selected microorganisms are promising models to study the mechanisms of plant-microbe interactions in the presence of toxic Al and improving Al tolerance of plants in acid soils.
Keywords:
acid soil, aluminium tolerance, immobilization, pea, PGPR, rhizosphere, yeast
Downloads
Download data is not yet available.
References
Arinushkina, E. V. 1970. Rukovodstvo po khimicheskomu analizu pochv. 487 pp. Lomonosov Moscow University Press. Moscow. (In Russian)
Frankenberger, W. T. and Arshad, M. 1995. Phytohormones in soils: production and function. 503 pp. Marcel Dekker, Inc. New York.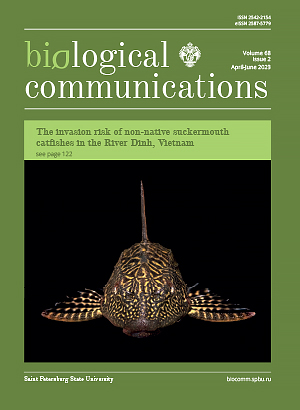 How to Cite
Shaposhnikov, A., Yuzikhin, O., Syrova, D., Karlov, D., Sazanova, A., Azarova, T., Sekste, E., Safronova, V., & Belimov, A. (2023). Beneficial aluminium immobilizing microorganisms inhabiting the rhizosphere of pea. Biological Communications, 68(2), 74–85. https://doi.org/10.21638/spbu03.2023.202
Section
Full communications
Articles of Biological Communications are open access distributed under the terms of the License Agreement with Saint Petersburg State University, which permits to the authors unrestricted distribution and self-archiving free of charge.