Rhizobial isolates in active layer samples of permafrost soil of Spitsbergen, Arctic
Abstract
Twenty-nine strains were isolated from two samples of the permafrost active layer of the Spitsbergen archipelago. The estimated number of bacteria ranged from 4.0⋅104 to 1.7⋅107 CFU∙g-1. As a result of sequencing of the 16S rRNA (rrs) genes, the isolates were assigned to 13 genera belonging to the phyla Actinobacteria, Proteobacteria (classes α, β, and γ), Bacteroidetes, and Firmicutes. Six isolates belonged to the rhizobial genus Mesorhizobium (order Rhizobiales). A plant nodulation assay with seedlings of legume plants Astragalus norvegicus, A. frigidus, A. subpolaris and Oxytropis sordida, originated from Khibiny (Murmansk region, Russia) and inoculated with Mesorhizobium isolates, showed the inability of these strains to form nodules on plant roots. Symbiotic (sym) genes nodC and nodD were not detected in Mesorhizobium strains either.
Keywords:
legume plants, root nodule bacteria, 16S rRNA genes, permafrost soil, Spitsbergen
Downloads
Download data is not yet available.
References
Egorov, N. S. 1976. Workshop on Microbiology. Izdatelstvo Moskovskogo Universiteta, Moscow. 307 p. (In Russian)
Tikhonovich, I. A. and Provorov, N. A. 2009. Symbioses of plants and microorganisms: molecular genetics of agrosystems of the future. Izdatelstvo Sankt-Peterburgskogo Universiteta, Saint Petersburg. 210 p. (In Russian)
Vincent, J. M. 1970. A manual for the practical study of root nodule bacteria; pp. 73–97 in IBP Handbook. Oxford and Edinburgh: Blackwell Scientific Publications.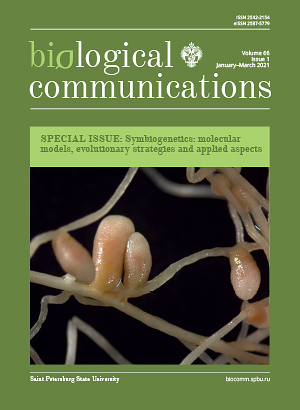 How to Cite
Karlov, D., Sazanova, A., Kuznetsova, I., Tikhomirova, N., Popova, Z., Osledkin, Y., Demidov, N., Belimov, A., & Safronova, V. (2021). Rhizobial isolates in active layer samples of permafrost soil of Spitsbergen, Arctic. Biological Communications, 66(1), 73–82. https://doi.org/10.21638/spbu03.2021.109
Section
Full communications
Articles of Biological Communications are open access distributed under the terms of the License Agreement with Saint Petersburg State University, which permits to the authors unrestricted distribution and self-archiving free of charge.