Lateralization of vigilance in geese: influence of flock size and distance to the source of disturbance
Elmira Zaynagutdinova

Department of Vertebrate Zoology, Faculty of Biology, Saint Petersburg State University, Universitetskaya nab., 7–9, Saint Petersburg, 199034, Russian Federation

https://orcid.org/0000-0003-0476-7383

Karina Karenina

Department of Vertebrate Zoology, Faculty of Biology, Saint Petersburg State University, Universitetskaya nab., 7–9, Saint Petersburg, 199034, Russian Federation

https://orcid.org/0000-0001-8200-6876

Andrey Giljov

Department of Vertebrate Zoology, Faculty of Biology, Saint Petersburg State University, Universitetskaya nab., 7–9, Saint Petersburg, 199034, Russian Federation

https://orcid.org/0000-0002-7533-1600
Abstract
Left-eye preference, implicating right hemisphere advantage, is typical for vigilant behaviour of many vertebrates. Nevertheless, lateralization of vigilance may be manifested in other ways, such as different reactions to the danger viewed with the right and left eye. Here, we studied one-side biases in the orientation of white-fronted geese Anser albifrons feeding in flocks at different distances to the source of anthropogenic disturbance (a road with traffic) and in flocks of different sizes. The birds which used the left eye to monitor the road were at shorter distances to the road than the birds which used the right eye. The tendency to monitor the road with the right eye decreased with increasing flock size. Trade-offs between feeding, social and vigilant behaviour could explain these tendencies.
Keywords:
vigilant behaviour, antipredator behaviour, social behavior, sensory lateralization, visual lateralization, white-fronted goose, disturbance, hunting, flight initiation distance, lateral bias
Downloads
Download data is not yet available.
References
Begon, M., Mortimer, M., and Thomson, D. J. 1996. Population ecology: A unified study of plants and animals (3rd ed.). Oxford: Blackwell Sci.
Bellebaum, J. and Kruckenberg, H. 2009. Impact of hunting: from escape distance to the loss of feeding area. In Goose Specialist Group 12th Meeting. 9–13 October Hölviken. Sweden, p. 11.
Fox, A. D. and Leafloor, J. O. (eds.) 2018. A global audit of the status and trends of Arctic and Northern Hemisphere goose populations. Conservation of Arctic Flora and Fauna International Secretariat, Akureyri, Iceland.
Madsen, J., Cracknell, G., and Fox, A. D. (eds.) 1999. Goose populations of Western Paleartic. A review of status and distribution. Wetlands International Publ. No 48. Wetlands International, Wageningen, The Netherlands. National Environmental Research Institute, Rönde, Denmark.
Rogers, L. J. and Kaplan, G. 2005. An eye for a predator: Lateralization in birds with particular reference to the Australian Magpie. In Y. Malashichev and A. W. Deckel (eds.). Behavioural and Morphological Asymmetries in Vertebrates. Landes Boiscience. pp 47–57.
Zimin, V. B., Artemyev, A. V., Lapshin, N. V., and Tyulin, A. R. 2007. Olonets spring bird assemblages. Moscow, Science, 299 p. (In Russian)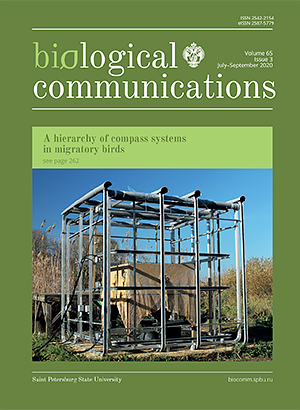 How to Cite
Zaynagutdinova, E., Karenina, K., & Giljov, A. (2020). Lateralization of vigilance in geese: influence of flock size and distance to the source of disturbance. Biological Communications, 65(3), 252–261. https://doi.org/10.21638/spbu03.2020.305
Section
Full communications
Articles of Biological Communications are open access distributed under the terms of the License Agreement with Saint Petersburg State University, which permits to the authors unrestricted distribution and self-archiving free of charge.