Olfactory lateralization in non-human mammals: a mini-review
Ekaterina Berezina

Department of Vertebrate Zoology, Faculty of Biology, Saint Petersburg State University, Universitetskaya nab., 7–9, Saint Petersburg, 199034, Russian Federation

https://orcid.org/0000-0002-1792-6876

Andrey Giljov

Department of Vertebrate Zoology, Faculty of Biology, Saint Petersburg State University, Universitetskaya nab., 7–9, Saint Petersburg, 199034, Russian Federation

https://orcid.org/0000-0002-7533-1600

Karina Karenina

Department of Vertebrate Zoology, Faculty of Biology, Saint Petersburg State University, Universitetskaya nab., 7–9, Saint Petersburg, 199034, Russian Federation

https://orcid.org/0000-0001-8200-6876
Abstract
The asymmetric use of nostrils and few contralateral projections in olfactory neural pathways allow us to suppose the dominance of one hemisphere in the processing of various odours in non-human mammals. Although olfaction is the most important sensory domain for many mammals, lateralization of this sense is poorly studied in this group of animals, and the existing limited knowledge is based on experiments on laboratory and domestic mammals. Here we review the most important studies in this developing field, with an emphasis on the methods used. Most of the recent studies indicate the dominance of the right hemisphere in the processing of social and aversive odours and analysis of familiarity of the olfactory stimuli. Dominance of the left hemisphere was found only in a form of a slight trend in the perception of food odour. Almost all existing results on olfactory lateralization are in line with the well-studied patterns of visual lateralization. However, further focused investigations are needed to confirm this consistency. Studies on a wider range of species and stimuli will help to get a better understanding of the relative hemispheric roles in olfactory perception.
Keywords:
olfactory lateralization, nostril use, sensory lateralization, brain asymmetry, mammals
Downloads
Download data is not yet available.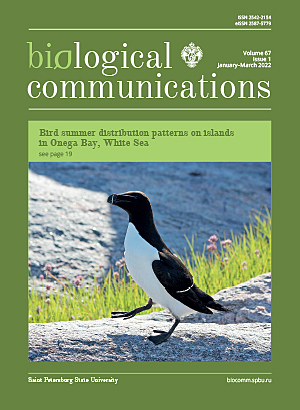 How to Cite
Berezina, E., Giljov, A., & Karenina, K. (2022). Olfactory lateralization in non-human mammals: a mini-review. Biological Communications, 67(1), 49–56. https://doi.org/10.21638/spbu03.2022.105
Section
Review communications
Articles of Biological Communications are open access distributed under the terms of the License Agreement with Saint Petersburg State University, which permits to the authors unrestricted distribution and self-archiving free of charge.