Great Crested Grebe (Podiceps cristatus) synchronies egg laying with protective species
Elmira Zaynagutdinova

Department of Vertebrate Zoology, Faculty of Biology, Saint Petersburg State University, Universitetskaya nab., 7–9, Saint Petersburg, 199034, Russian Federation

https://orcid.org/0000-0003-0476-7383

Yuriy Mikhailov

Department of Vertebrate Zoology, Faculty of Biology, Saint Petersburg State University, Universitetskaya nab., 7–9, Saint Petersburg, 199034, Russian Federation

https://orcid.org/0000-0003-3082-6543
Abstract
Great crested grebes (Podiceps cristatus) are opportunistic breeders nesting in colonies or solitarily in different biotopes with varying nesting dates in different circumstances. On the northern coast of the Neva Bay in the eastern part of the Gulf of Finland, great crested grebes breed solitarily, in colonies situated in reed beds and in a colony on the open water in direct vicinity of a colony of black-headed gulls (Larus ridibundus) and black terns (Chlidonias niger). In the vicinity of the larid colony, grebes profit from the protecting behaviour of gulls and terns in a similar way as they do in their mixed colonies with larids. Despite the fact that small larids have a shorter incubation period than great crested grebes, the latter synchronize their beginning of incubation with the gulls and terns. The incubation of all three species in two adjoining open-water colonies started on the same dates. The incubation of grebes nesting in the reed beds began significantly later. The average clutch sizes did not differ significantly between the colonies situated on the open water near larids and those in the reeds. The average lowest distances between the nests of great crested grebes in the open water colony were larger than in the reed bed colonies. The ability to synchronize the beginning of incubation with a small protecting species helps great crested grebes to occupy otherwise unsafe habitats.
Keywords:
waterfowl, protective nesting associations, reed, clutch size, distance between nests, nesting dates, black-headed gull, black tern
Downloads
Download data is not yet available.
References
Cramp, S. and Simmons, E. L. (eds.) 1977. Handbook of the birds of Europe, the Middle East and North Africa. Vol. 1. Oxford.
Dementiev, G. P. and Gladkov, N. A. 1951. Ptitsy Sovetskogo Soyuza [Birds of the Soviet Union]. Vol. 1. Sovetskaya Nauka, Moscow.
Farner, D. S. and King, J. R. 2013. Avian Biology, Vol. 2. Elsevier. Nature.
Fjeldså, J. 2004. The Grebes. Oxford University Press.
Hramtsov, V. N., Kovaleva, T. V., and Natsvaladze, N. U. (eds.). 2013. Atlas osobo okhranyayemykh prirodnykh territoriy Sankt-Peterburga. [Atlas of Protected Areas of Saint-Petersburg]. Marafon. Saint-Petersburg.
Iljichev, V. D. and Flint, V. E. (eds.) 1982. Ptitsy SSSR. Istoriya issledovaniy Gaviiformes, Podicipediformes, Procellariiformes. [Birds of USSR. The history of study. Gaviiformes, Podicipediformes, Procellariiformes]. Moscow. Science.
Ivanov, A. I., Kozlova, E. V., Portenko, L. A., and Tugarinov, A. Ja. 1953. Ptitsy SSSR [Birds of USSR]. Printing House of Academy of Science of USSR. Moscow, Leningrad.
van de Kam, J., Ens, B., Piersma, T., and Zwarts, L. 2004. Shorebirds. An Illustrated Behavioural Ecology. KNNV Publishers: Utrecht, Netherlands.
Malchevsky, Yu. S. and Pukinsky, Yu. B. 1983. Ptitsy Leningradskoy oblasti i sopredel'nykh territoriy [Birds of Leningrad Region and adjacent territories]. Vol. 1. Publishing House of Leningrad University.
Melde, M. 1973. Der Haubentaucher. [The Great crested grebe]. Wittenberg Lutherstadt.
Noskov, G. A. and Botch, M. S. (eds.). 1999. Krasnaia kniga prirody Leningradskoi oblasti. T. 1. Osobo okhraniaemye prirodnye territorii. [Red Data Book of Nature of the Leningrad Region. Vol. 1. Protected Areas]. St. Petersburg.
Piersma, T. 2006. Migration in the balance: tight ecological margins and the changing fortunes of shorebird populations; pp. 74–80. in Boere, G.C., Galbraith, C.A., and Stroud, D.A. (eds.). Waterbirds Around the World. The Stationary Office: Edinburgh, UK.
Rjabitsev, V. K. Ptitsy Urala, Priural'ya i Zapadnoy Sibiri: Spravochnik-opredelitel'. [Birds of Ural, Priuralje and West Siberia: Guide]. Yekaterinburg: Printing House of Ural University.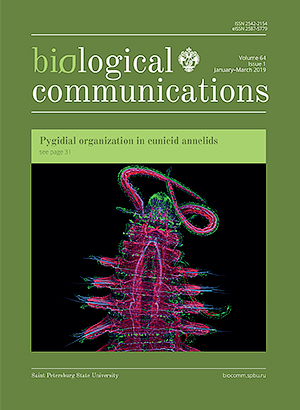 How to Cite
Zaynagutdinova, E., & Mikhailov, Y. (2019). Great Crested Grebe (<em>Podiceps cristatus</em&gt;) synchronies egg laying with protective species. Biological Communications, 64(1), 11–19. https://doi.org/10.21638/spbu03.2019.102
Section
Full communications
Articles of Biological Communications are open access distributed under the terms of the License Agreement with Saint Petersburg State University, which permits to the authors unrestricted distribution and self-archiving free of charge.