Isolation and characterization of low molecular weight antimicrobial proteins from blue fox leukocytes (Alopex lagopus)
Elena Bogomolova

Saint Petersburg State University, 7–9, Universitetskaya nab., Saint Petersburg, 199034, Russian Federation

https://orcid.org/0000-0003-4047-4086

Mikhail Berlov

Saint Petersburg State University, 7–9, Universitetskaya nab., Saint Petersburg, 199034, Russian Federation; Institute of Experimental Medicine of the North West Branch of the Russian Academy of Medical Sciences, Saint Petersburg, 197376, Russian Federation

https://orcid.org/0000-0001-5191-0467

Yaroslav Dubrovsky

Institute of Analytical Instrumentation of the Russian Academy of Sciences, Russian Federation

Ekaterina Korableva

Saint Petersburg State University, 7–9, Universitetskaya nab., Saint Petersburg, 199034, Russian Federation

Vladimir Kokryakov

Institute of Experimental Medicine of the North West Branch of the Russian Academy of Medical Sciences, Saint Petersburg, 197376, Russian Federation; Saint Petersburg State University, 7–9, Universitetskaya nab., Saint Petersburg, 199034, Russian Federation
Abstract
The aim of the research is to isolate and characterize low molecular weight antimicrobial proteins from acetic acid extracts from blue fox leukocytes. The research resulted in lysozyme with molecular mass 14634 Da having been isolated for the first time. Some functional characteristics of this protein were defined. pH optimum of enzymatic activity is 5,8, and minimum inhibitory concentration (MIC) against gram-positive bacterium Listeria monocytogenes is 6 μg/ml. Lysozyme was inactive against gram-negative bacterium Escherichia coli up to 2 mg/ml. Unknown protein with molecular weight 9035 Da presumably belonging to NK-lysins was isolated. It is characterized by high positive charge, the presence of three disulfide bonds and the lack of carbohydrate component. MIC against E. coli is 1,7 μg/ml, and MIC against L. monocytogenes is 2,4 μg/ml.
Keywords:
leukocytes, antimicrobial proteins and peptides, lysozyme, NK-lysin
Downloads
Download data is not yet available.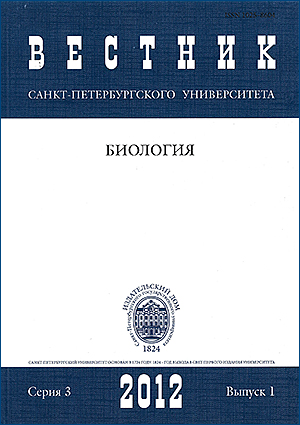 How to Cite
Bogomolova, E., Berlov, M., Dubrovsky, Y., Korableva, E., & Kokryakov, V. (2012). Isolation and characterization of low molecular weight antimicrobial proteins from blue fox leukocytes (<em>Alopex lagopus</em&gt;). Biological Communications, (1), 47–59. Retrieved from https://biocomm.spbu.ru/article/view/4802
Section
Full communications
Articles of Biological Communications are open access distributed under the terms of the License Agreement with Saint Petersburg State University, which permits to the authors unrestricted distribution and self-archiving free of charge.