Antimicrobial peptide from leukocytes of Vulpes vulpes red fox
Elena Ilina

Saint Petersburg State University, 7–9, Universitetskaya nab., Saint Petersburg, 199034, Russian Federation

Mikhail Berlov

Saint Petersburg State University, 7–9, Universitetskaya nab., Saint Petersburg, 199034, Russian Federation; Institute of Experimental Medicine of the North West Branch of the Russian Academy of Medical Sciences, Saint Petersburg, 197376, Russian Federation

https://orcid.org/0000-0001-5191-0467

Yaroslav Dubrovsky

Institute of Analytical Instrumentation of the Russian Academy of Sciences, Russian Federation

Elena Bogomolova

Saint Petersburg State University, 7–9, Universitetskaya nab., Saint Petersburg, 199034, Russian Federation

https://orcid.org/0000-0003-4047-4086

Vladimir Kokryakov

Institute of Experimental Medicine of the North West Branch of the Russian Academy of Medical Sciences, Saint Petersburg, 197376, Russian Federation; Saint Petersburg State University, 7–9, Universitetskaya nab., Saint Petersburg, 199034, Russian Federation
Abstract
Antimicrobial peptides from animal leukocytes are considered as a possible source of novel medicines additional to conventional antibiotics. Characterization of new antimicrobial peptides from previously unstudied species is important for progress in this direction. The aim of this work was to investigate antimicrobial peptides from red fox leukocytes. Highly purified 4690 D peptide was isolated by the procedure including acetic acid extraction of cationic compounds from leukocytes, gel filtration on Biogel P-10, and reversed phase HPLC on C18. Peptide expressed marked antimicrobial activity to gram-negative bacterium Escherichia coli ML-35p and gram-positive bacterium Listeria monocytogenes EGD. The primary structure of peptide was determined by mass spectrometry of tryptic cleavage products with consecutive analysis of the data by MASCOT service. This peptide was revealed to be a fragment of histone H4 presumably corresponding to 19–59 piece in its amino acid sequence.
Keywords:
leukocytes, antimicrobial peptides, histone H4
Downloads
Download data is not yet available.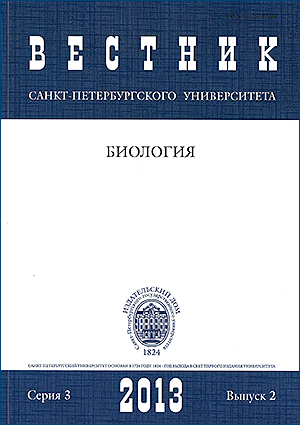 How to Cite
Ilina, E., Berlov, M., Dubrovsky, Y., Bogomolova, E., & Kokryakov, V. (2013). Antimicrobial peptide from leukocytes of <em>Vulpes vulpes</em&gt; red fox. Biological Communications, (2), 56–63. Retrieved from https://biocomm.spbu.ru/article/view/2641
Section
Full communications
Articles of Biological Communications are open access distributed under the terms of the License Agreement with Saint Petersburg State University, which permits to the authors unrestricted distribution and self-archiving free of charge.