Search of novel antimicrobial peptides of the cathelicidins and defensins families in moose (Alces alces) leucocytes
Vladimir Yuhnev

Institute of Experimental medicine NWB RAMS, ul. akad. Pavlova, 12, Saint Petersburg, 197376, Russian Federation

Maria Shartukova

Ministry of Healthcare of the Russian Federation Research Institute of Influenza WHO National Centre of Russia, ul. prof. Popova, 15/17, Saint Petersburg, 197376, Russian Federation

Natalya Lugovkina

Institute of Experimental medicine NWB RAMS, ul. akad. Pavlova, 12, Saint Petersburg, 197376, Russian Federation; Federal State Institution of Science «Institute of Toxicology of the Federal Medical and Biological Agency», ul. Bekhtereva, 1, Saint Petersburg, 192019, Russian Federation

Vladimir Kokryakov

Institute of Experimental Medicine of the North West Branch of the Russian Academy of Medical Sciences, Saint Petersburg, 197376, Russian Federation; Saint Petersburg State University, 7–9, Universitetskaya nab., Saint Petersburg, 199034, Russian Federation

Olga Shamova

Institute of Experimental Medicine of the North West Branch of the Russian Academy of Medical Sciences, Saint Petersburg, 197376, Russian Federation; Saint Petersburg State University, 7–9, Universitetskaya nab., Saint Petersburg, 199034, Russian Federation
Abstract
Antimicrobial peptides (AMPs) of animal origin are cationic molecules that play an important role in the innate immune defense. An investigation of new AMPs is important for the development of fundamental knowledge on the molecular mechanisms of innate immunity in the course of evolution, as well as for the production of novel structures, which may serve as templates for the design of new antibiotic drugs. The purpose of the present work is to investigate physicochemical properties and biological activity of antimicrobial peptides from the moose (Alces alces) leukocytes. By using a preparative procedure containing an ultrafiltration and reverse-phase HPLC we have isolated and characterized five highly purified preparations of peptides (AP 2–6) with the molecular masses of 1849, 3696, 2418, 2003 and 2858 Da. The preparation AP-1 included a peptide with a molecular mass of 4658 Da, similar to that of bovine β-defencin. The peptide AP-5 possessed the highest electrophoretic mobility in the acidic environment toward a cathode. The peptides AP-2, AP-3, AP-4, AP-6 appeared to be linear molecules, while the peptides AP-1 and AP-5 contained S-S bridges. The obtained peptides showed antimicrobial activity against gram-negative bacteria Escherichia coli ML-35p and gram-positive bacteria Listeria monocytogenes EGD, but did not lyse human red blood cells in concentrations five times exceeded MIC values. Refs 23. Figs 5. Таbles 1.
Keywords:
innate immune system, antimicrobial peptides, cathelicidins
Downloads
Download data is not yet available.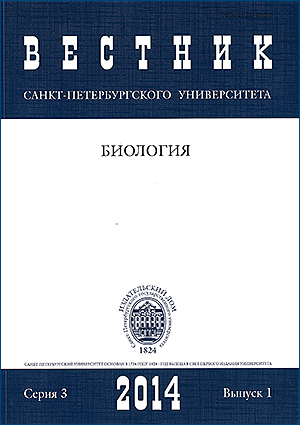 How to Cite
Yuhnev, V., Shartukova, M., Lugovkina, N., Kokryakov, V., & Shamova, O. (2014). Search of novel antimicrobial peptides of the cathelicidins and defensins families in moose (<em>Alces alces</em&gt;) leucocytes. Biological Communications, (1), 115–131. Retrieved from https://biocomm.spbu.ru/article/view/1154
Section
Full communications
Articles of Biological Communications are open access distributed under the terms of the License Agreement with Saint Petersburg State University, which permits to the authors unrestricted distribution and self-archiving free of charge.