The effect of alpha- and beta- adrenoblockers on the ability of adrenaline to change the osmotic resistance of erythrocytes of nonpregnant women
Anna Krysova

Vjatskiy State Hiumanitarial University, Kirov, Russian Federation

Alexander Nozdrachev

Saint Petersburg State University, 7–9, Universitetskaya nab., Saint Petersburg, 199034, Russian Federation

Alexey Kunshin

Vyatka Socio-Economic Institute, Kirov, Russian Federation

Viktor Tsirkin

Kazan State Medical University, 49, ul. Butlerov, Kazan, 420012, Russian Federation; Vjatskiy State Hiumanitarial University, Kirov, Russian Federation
Abstract
The effect of adrenaline and three adrenoblockers on the osmotic resistance of erythrocytes (ORE) has been studied on the example of 116 nonpregnant women. The ORE was estimated by the number of nonhemolyzed erythrocytes subjected to the exposure in distilled water (DW). It is established that an ability of adrenaline to raise or reduce the ORE depends on its concentration, erythrocyte fraction and level of reproductive hormones. Obzidan increased an ability of adrenaline to raise the ORE, while atenolol, nicergoline or their mixture decreased this ability. This fact means that an increase of the ORE under the influence of adrenaline is caused by activation of alpha-adrenoreceprors (AR) and, to a lesser degree, of beta1-AR, and a decrease of the ORE is caused by activation of beta2-AR.
Keywords:
erythrocytes, osmotic resistance, adrenoreactivity, adrenoreceptors, adrenaline, adrenoblockers
Downloads
Download data is not yet available.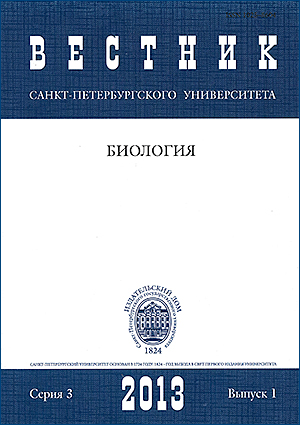 How to Cite
Krysova, A., Nozdrachev, A., Kunshin, A., & Tsirkin, V. (2013). The effect of alpha- and beta- adrenoblockers on the ability of adrenaline to change the osmotic resistance of erythrocytes of nonpregnant women. Biological Communications, (1), 54–68. Retrieved from https://biocomm.spbu.ru/article/view/2695
Section
Full communications
Articles of Biological Communications are open access distributed under the terms of the License Agreement with Saint Petersburg State University, which permits to the authors unrestricted distribution and self-archiving free of charge.