Mycology development on the Botany Department: traditions and new directions
Dmitrij Vlasov

Saint Petersburg State University, 7–9, Universitetskaya nab., Saint Petersburg, 199034, Russian Federation

https://orcid.org/0000-0002-0455-1462

Anna Tobias

Faculty of Biology, Saint Petersburg State University, Universitetskaya nab., 7–9, Saint Petersburg, 199034, Russian Federation

https://orcid.org/0000-0002-2332-1734

Nina Cherepanova

Faculty of Biology, Saint Petersburg State University, Universitetskaya nab., 7–9, Saint Petersburg, 199034, Russian Federation
Abstract
The paper considers the main stages in the development of mycology at the Botany Department of Saint Petersburg State University from the beginning of XX century to the present day. The main areas of mycological research were formed by famous mycologists of our country. An important step was the creation of the Laboratory of Experimental Mycology. The studies were conducted in the field of taxonomy, ecology, biodiversity and physiology of fungi as well as plant pathology. It considers the most significant results of the university`s mycologists obtained at different periods of mycological science development. Currently, the scientists of Botany Department preserve the well-established traditions and develop new areas in mycological research. Among them geomycology takes a special place. This direction has been developed for almost 20 years. The paper deals with the fundamental scientific and practical advances in this field, discusses mycological promising developments based on comprehensive environmental studies, as well as their use in the educational process.
Keywords:
mycology, famous mycologists, stages of development, fundamental and applied research, advanced development, integrated studies, geomycology
Downloads
Download data is not yet available.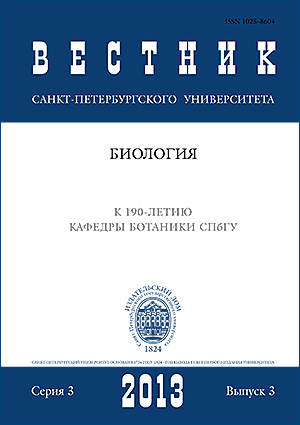 How to Cite
Vlasov, D., Tobias, A., & Cherepanova, N. (2013). Mycology development on the Botany Department: traditions and new directions. Biological Communications, (3), 134–147. Retrieved from https://biocomm.spbu.ru/article/view/1371
Section
Full communications
Articles of Biological Communications are open access distributed under the terms of the License Agreement with Saint Petersburg State University, which permits to the authors unrestricted distribution and self-archiving free of charge.