Cyanobacterial mats as objects of Antarctic ecosystem monitoring
Alexander Panin

Military Medical Academy named after S. M. Kirov, Saint Petersburg, Russian Federation

Elena Bogumilchik

Scientific Institute of epidemiology and microbiology named after Paster, Saint Petersburg, Russian Federation

Andrey Sharov

Saint-Petersburg Center of ecological Safety of RAN, Saint Petersburg, Russian Federation

Dmitrij Vlasov

Saint Petersburg State University, 7–9, Universitetskaya nab., Saint Petersburg, 199034, Russian Federation

https://orcid.org/0000-0002-0455-1462

Marina Zelenskaya

Saint Petersburg State University, 7–9, Universitetskaya nab., Saint Petersburg, 199034, Russian Federation

Alexey Tolstikov

Institute of North Water Problems of Karel Centre of RAN, Russian Federation

Shamil Teshebaev

Centre of Polar Medicine of Arctic and Antarctic Institute, Russian Federation

Galina Tseneva

Scientific Institute of epidemiology and microbiology named after Paster, Saint Petersburg, Russian Federation

Ludmila Kraeva

Scientific Institute of epidemiology and microbiology named after Paster, Saint Petersburg, Russian Federation

Victor Sboichakov

Military Medical Academy named after S. M. Kirov, Saint Petersburg, Russian Federation

Vasily Bolehan

Military Medical Academy named after S. M. Kirov, Saint Petersburg, Russian Federation
Abstract
Cyanobacterial mats (CBM) in the territories of polar research stations and seasonal field bases of the Russian Antarctic Expedition (RAE) were studied as indicators of human impact. It is shown that the number of detected CBM in the contaminated territories (from human and ornithogenic load) greatly exceeds the number in ecologically clean regions of the Antarctic, and the contamination of CBM by outside microbiota in disturbed ecosystems increases by 1,5–3 times. Detection of pathogenic strains of Yersinia enterocolitica as well as opportunistic pseudomonads and micromycetes in the CBM which are formed near the polar stations is the basis for the ecological and epidemiological monitoring in areas of human presence in Antarctica.
Keywords:
Antarctic cyanobacterial mats, bioindication, monitoring, psychrophiles, bacteria, Yersinia, micromycetes
Downloads
Download data is not yet available.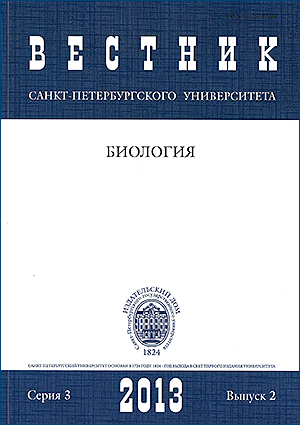 How to Cite
Panin, A., Bogumilchik, E., Sharov, A., Vlasov, D., Zelenskaya, M., Tolstikov, A., Teshebaev, S., Tseneva, G., Kraeva, L., Sboichakov, V., & Bolehan, V. (2013). Cyanobacterial mats as objects of Antarctic ecosystem monitoring. Biological Communications, (2), 3–11. Retrieved from https://biocomm.spbu.ru/article/view/2633
Section
Full communications
Articles of Biological Communications are open access distributed under the terms of the License Agreement with Saint Petersburg State University, which permits to the authors unrestricted distribution and self-archiving free of charge.