Biofouling of granite embankments in Saint Petersburg
Tat'yana Popova

Herzen State Pedagogical University of Russia, 48, nab. r. Moyki, Saint Petersburg, 191186, Russian Federation

Dmitrij Vlasov

Saint Petersburg State University, 7–9, Universitetskaya nab., Saint Petersburg, 199034, Russian Federation

https://orcid.org/0000-0002-0455-1462

Marina Zelenskaya

Saint Petersburg State University, 7–9, Universitetskaya nab., Saint Petersburg, 199034, Russian Federation

Elena Panova

Saint Petersburg State University, 7–9, Universitetskaya nab., Saint Petersburg, 199034, Russian Federation
Abstract
In this paper the granite embankments in Saint-Petersburg are considered as specific habitat of high vascular plants, mosses, lichens and fungus. Variety and features of biofouling distribution on the granitical lining of embankments are studded on the following city streams: Griboyedov Channel, Kryukov Channel, Novo-Admiralteysky Channel; Moyka, Fontanka, Karpovka, Smolenka Rivers and Neva. Species composition is considered and main life-forms and ecological plant groups are revealed. 110 species of plants are identified. Dominant species associations and peculiarities of distribution are established. 30 species of fungi (micromycetes) and 10 species of lichens are identified and the dominant groups are revealed. The peculiarities of fungi and lichen distribution concerned with relief features, mineral composition and granite structure are revealed using the scanning electron microscope. It is shown that the destruction of rapakivi granite is connected with the fungal colonization of different minerals (quartz, mica, feldspar). As a result, the surface layers are formed by cells of living organisms, degradation products of granite and atmospheric pollution. Biofouling reinforce the processes of physical and chemical weathering of granite. Refs 11. Figs 6. Tables 1.
Keywords:
granite embankments, biofouling, species composition, plants, fungi, biofilms, biodeterioration
Downloads
Download data is not yet available.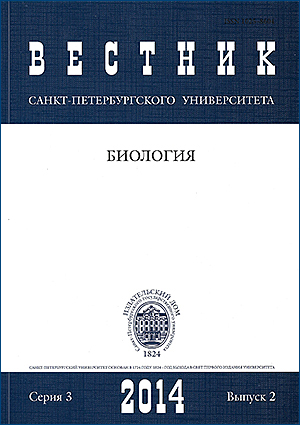 How to Cite
Popova, T., Vlasov, D., Zelenskaya, M., & Panova, E. (2014). Biofouling of granite embankments in Saint Petersburg. Biological Communications, (2), 30–40. Retrieved from https://biocomm.spbu.ru/article/view/1133
Section
Full communications
Articles of Biological Communications are open access distributed under the terms of the License Agreement with Saint Petersburg State University, which permits to the authors unrestricted distribution and self-archiving free of charge.