The braincase of Bissektipelta archibaldi — new insights into endocranial osteology, vasculature, and paleoneurobiology of ankylosaurian dinosaurs
Ivan Kuzmin

Department of Vertebrate Zoology, Faculty of Biology, Saint Petersburg State University, Universitetskaya nab., 7–9, Saint Petersburg, 199034, Russian Federation

https://orcid.org/0000-0003-3086-2237

Ivan Petrov

Saint Petersburg City Palace of Youth Creativity, Nevsky pr., 39A, Saint Petersburg, 191011, Russian Federation

https://orcid.org/0000-0003-3617-2317

Alexander Averianov

Zoological Institute, Russian Academy of Sciences, Universitetskaya nab., 1, Saint Petersburg, 199034, Russian Federation

https://orcid.org/0000-0001-5948-0799

Elizaveta Boitsova

Department of Vertebrate Zoology, Faculty of Biology, Saint Petersburg State University, Universitetskaya nab., 7–9, Saint Petersburg, 199034, Russian Federation

https://orcid.org/0000-0001-8590-9835

Pavel Skutschas

Department of Vertebrate Zoology, Faculty of Biology, Saint Petersburg State University, Universitetskaya nab., 7–9, Saint Petersburg, 199034, Russian Federation

https://orcid.org/0000-0001-8093-2905

Hans-Dieter Sues

Department of Paleobiology, National Museum of Natural History, Smithsonian Institution, MRC 121, P.O. Box 37012, Washington, DC 20013–7012, USA
Abstract
We describe in detail three braincases of the ankylosaur Bissektipelta archibaldi from the Late Cretaceous (Turonian) of Uzbekistan with the aid of computed tomography, segmentation, and 3D modeling. Bissektipelta archibaldi is confirmed as a valid taxon and attributed to Ankylosaurinae based on the results of a phylogenetic analysis. The topographic relationships between the elements forming the braincase are determined using a newly referred specimen with preserved sutures, which is an exceedingly rare condition for ankylosaurs. The mesethmoid appears to be a separate ossification in the newly referred specimen ZIN PH 281/16. We revise and discuss features of the neurocranial osteology in Ankylosauria and propose new diagnostic characters for a number of its subclades. We present a 3D model of the braincase vasculature of Bissektipelta and comment on vascular patterns of armored dinosaurs. A complex vascular network piercing the skull roof and the wall of the braincase is reported for ankylosaurs for the first time. We imply the presence of a lepidosaur-like dorsal head vein and the venous parietal sinus in the adductor cavity of Bissektipelta. We suggest that the presence of the dorsal head vein in dinosaurs is a plesiomorphic diapsid trait, and extant archosaur groups independently lost the vessel. A study of two complete endocranial casts of Bissektipelta allowed us to compare endocranial anatomy within Ankylosauria and infer an extremely developed sense of smell, a keen sense of hearing at lower frequencies (100–3000 Hz), and the presence of physiological mechanisms for precise temperature control of neurosensory tissues at least in derived ankylosaurids.
Keywords:
Dinosauria, Ankylosauria, endocast, blood vessels, paleobiology, Late Cretaceous, Uzbekistan
Downloads
Download data is not yet available.
References
Averianov, A. O. 2009. Ankylosaur (Ornithischia, Ankylosauridae) humerus from the Late Cretaceous of Kazakhstan; pp. 78–80 in Shishkin, M. A. and Tverdokhlebov, V. P. (eds.), Researches on paleontology and biostratigraphy of ancient continental deposits (Memories of Professor Vitalii G. Ochev). Nauchnaya Kniga, Saratov. (In Russian)
Blows, W. T. 2001. Dermal armor of the polacanthine dinosaurs; pp. 363– 385 in Carpenter, K. (ed.), The Armored Dinosaurs. Indiana University Press, Bloomington.
Burns, M. E. 2015. Intraspecific variation in the armoured dinosaurs (Dinosauria: Ankylosauria). PhD thesis, University of Alberta, Edmonton.
Carpenter, K. 2001. Phylogenetic analysis of the Ankylosauria; pp. 455–483 in Carpenter, K. (ed.), The Armored Dinosaurs. Indiana University Press, Bloomington.
Carpenter, K. and Kirkland, J. I. 1998. Review of Lower and Middle Cretaceous ankylosaurs from North America; pp. 249–270 in Lucas, S. G., Kirkland, J. I., and Estep, J. W. (eds.), Lower and Middle Cretaceous terrestrial ecosystems. New Mexico Museum of Natural History and Science Bulletin 14.
Carpenter, K., Kirkland, J. I., Burge, D., and Bird, J. 2001. Disarticulated skull of a new primitive ankylosaurid from the Lower Cretaceous of Eastern Utah; pp. 211–238 in Carpenter, K. (ed.), The Armored Dinosaurs. Indiana University Press, Bloomington.
Coombs, W. P. and Maryańska, T. 1990. Ankylosauria; pp. 456–483 in Weishampel, D. B., Dodson, P., and Osmólska, H. (eds.), The Dinosauria. University of California Press, Berkeley.
Hopson, J. A. 1979. Paleoneurology; pp. 39–146 in Northcutt, R. G. and Ulinski, P. (eds.), The Biology of the Reptilia, Vol 9, Neurology A. Academic Press, New York.
Owen, R. 1842. Report on British fossil reptiles. Part II. Report of the British Association for Advancement of Science, 11th Meeting, Plymouth 1841:60–204.
Porter, W. R. 2015. Physiological implications of dinosaur cephalic vascular systems. PhD thesis. Ohio University, Athens, OH.
Sedlmayr, J. C. 2002. Anatomy, evolution, and functional significance of cephalic vasculature in Archosauria. PhD thesis. Ohio University, Athens, OH.
Sobral, G. 2014. The evolutionary origins of impedance-matching hearing in Archosauria. PhD thesis. Humboldt–Universität zu Berlin, Berlin.
Tumanova, T. A. 2012. Infraorder Ankylosauria; pp. 310–324 in Tatarinov, L. P., Vorobyeva, E. I., and Kurochkin, E. N. (eds.), Fossil vertebrates of Russia and adjacent countries. Fossil reptiles and birds. Part 2. GEOS, Moscow. (In Russian)
Vickaryous, M. K., Russell, A. P., and Currie, P. J. 2001a. Cranial ornamentation of ankylosaurs (Ornithischia: Thyreophora): reappraisal of developmental hypotheses; pp. 318–340 in Carpenter, K. (ed.), The Armored Dinosaurs. Indiana University Press, Bloomington.
Witmer, L. M. 1995. The extant phylogenetic bracket and the importance of reconstructing soft tissues in fossils; pp. 19–33 in Thomason, J.J. (ed.), Functional morphology in vertebrate paleontology. New York: Cambridge University Press.
Witmer, L. M. 1997. Craniofacial air sinus systems; pp. 151–159 in Currie, P. J. and Padian, K. (eds.), The Encyclopedia of Dinosaurs. Academic Press, New York.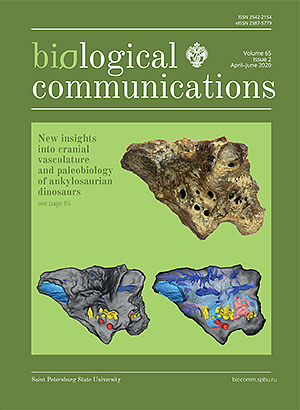 How to Cite
Kuzmin, I., Petrov, I., Averianov, A., Boitsova, E., Skutschas, P., & Sues, H.-D. (2020). The braincase of <em>Bissektipelta archibaldi</em&gt; — new insights into endocranial osteology, vasculature, and paleoneurobiology of ankylosaurian dinosaurs. Biological Communications, 65(2), 85–156. https://doi.org/10.21638/spbu03.2020.201
Section
Full communications
Articles of Biological Communications are open access distributed under the terms of the License Agreement with Saint Petersburg State University, which permits to the authors unrestricted distribution and self-archiving free of charge.