Hemocyte proteome of the Lake Baikal endemic Eulimnogammarus verrucosus (Crustacea: Amphipoda) sheds light on immune-related proteins
Abstract
Hemocytes are cells circulating in the hemolymph and playing an important role in crustacean immunity. These cells not only function as phagocytes but also express immune compounds to the hemolymph. Here we obtained hemocyte proteome of the endemic amphipod (Amphipoda, Crustacea) Eulimnogammarus verrucosus from Lake Baikal, the first hemocyte proteome of an amphipod, using liquid chromatography/tandem mass spectrometry (LC-MS/MS). A total of 1152 unique proteins were discovered with LC-MS/MS. We discovered both proteins directly involved in the immune response, such as pattern recognition proteins (C-type lectins), and compounds with antimicrobial activity (ctenidin and anti-lipopolysaccharide factor/scygonadin). Moreover, hemocyanins which may act as a phenoloxidase and C-type lectins were among the most diverse protein groups in the hemocyte proteome. The obtained data can be useful for further studies of immune components and mechanisms in Baikal amphipods.
Keywords:
hemocytes, LC-MS/MS, proteome, Lake Baikal, crustacean, amphipod, innate immunity, antimicrobial peptide, lectin
Downloads
Download data is not yet available.
References
Chang, E. S. and Thiel, M. V. 2015. Physiological Regulation. The natural history of the Crustacea. 512 p. Oxford University Press, Oxford; New York.
Team, R. C. 2019. R: A Language and Environment for Statistical Computing.
Watling, L. and Thiel, M. 2013. Functional Morphology and Diversity. The natural history of the Crustacea. 516 p. Oxford University Press, Oxford; New York.
Wickham, H. 2016. ggplot2-Elegant graphics for data analysis. Springer International Publishing. Cham, Switzerland.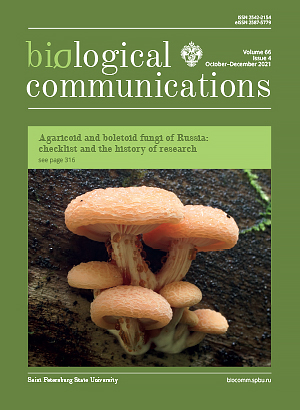 How to Cite
Zolotovskaya, E., Nazarova, A., Saranchina, A., Mutin, A., Drozdova, P., Lubyaga, Y., & Timofeyev, M. (2021). Hemocyte proteome of the Lake Baikal endemic <em>Eulimnogammarus verrucosus</em&gt; (Crustacea: Amphipoda) sheds light on immune-related proteins. Biological Communications, 66(4), 290–301. https://doi.org/10.21638/spbu03.2021.402
Section
Full communications
Articles of Biological Communications are open access distributed under the terms of the License Agreement with Saint Petersburg State University, which permits to the authors unrestricted distribution and self-archiving free of charge.