The oldest titanosaurian sauropod of the Northern Hemisphere
Alexander Averianov

Zoological Institute, Russian Academy of Sciences, Universitetskaya nab., 1, Saint Petersburg, 199034, Russian Federation; Department of Sedimentary Geology, Institute of Earth Sciences, Saint Petersburg State University, 16th Liniya V. O., 29, Saint Petersburg, 199178, Russian Federation; Borissiak Paleontological Institute, Russian Academy of Sciences, Profsoyuznaya ul., 123, Moscow, 117997, Russian Federation

https://orcid.org/0000-0001-5948-0799

Vladimir Efimov

Undory Paleontological Museum, Shkolnaya ul., 5, Undory, 433312, Russian Federation
Abstract
Volgatitan simbirskiensis, gen. et sp. nov., is described based on a series of anterior and middle caudal vertebrae from a single individual discovered in the Lower Cretaceous (upper Hauterivian, Speetoniceras versicolor ammonite Zone) marine deposits at Slantsevy Rudnik vertebrate locality near Ulyanovsk City, Russia. The new taxon is characterized by strongly procoelous anterior and middle caudal vertebrae, a long centrum of the first caudal vertebra, a strong ventral ridge in the anterior and middle caudal vertebrae, a neural arch positioned at the anterior half of the centrum, hyposphene-hypantrum articulation in the anterior caudal vertebrae, and somphospondylous bone texture. Phylogenetic analysis places the new taxon as a lithostrotian titanosaur, a basal member of the lineage leading to the Lognkosauria. This lineage previously contained only South American taxa with body mass reaching 60–70 tons. Volgatitan gen. nov. is the first European and the geologically oldest representative of this lineage. Its body mass is estimated as 17.3 tons. Discovery of Volgatitan gen. nov. suggests that the lithostrotian lineage leading to the Lognkosauria had a wider distribution in the Early Cretaceous and became extinct everywhere except South America by the end of the Early Cretaceous.
Keywords:
Dinosauria, Sauropoda, Titanosauriformes, Titanosauria, Lithostrotia, Early Cretaceous, Eastern Europe, Russia
Downloads
Download data is not yet available.
References
Goloboff, P. A., Farris, J. S., and Nixon, K. C. 2008. TNT (Tree analysis using New Technology) (BETA). Tucamán, Argentina: Published by the authors.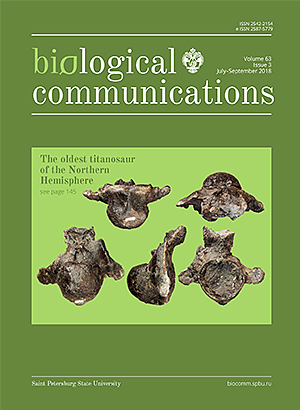 How to Cite
Averianov, A., & Efimov, V. (2018). The oldest titanosaurian sauropod of the Northern Hemisphere. Biological Communications, 63(3), 145–162. https://doi.org/10.21638/spbu03.2018.301
Section
Full communications
Articles of Biological Communications are open access distributed under the terms of the License Agreement with Saint Petersburg State University, which permits to the authors unrestricted distribution and self-archiving free of charge.