Ontogeny and miniaturization of Alvarezsauridae (Dinosauria, Theropoda)
Alexander Averianov

Zoological Institute, Russian Academy of Sciences, Universitetskaya nab., 1, Saint Petersburg, 199034, Russian Federation

https://orcid.org/0000-0001-5948-0799

Pavel Skutschas

Department of Vertebrate Zoology, Faculty of Biology, Saint Petersburg State University, Universitetskaya nab., 7–9, Saint Petersburg, 199034, Russian Federation

https://orcid.org/0000-0001-8093-2905

Alexey Lopatin

Borissiak Paleontological Institute, Russian Academy of Sciences, ul. Profsoyuznaya, 123, Moscow, 117647, Russian Federation

https://orcid.org/0000-0003-1913-0537
Abstract
The ontogenetic status of the known specimens of alvarezsaurid theropod dinosaurs is revised. We present histological data that the holotype of Parvicursor remotus from the Upper Cretaceous Barungoyot Formation of Mongolia is not an adult individual, as previously thought, but a juvenile less than one year old. The miniaturization took place only in the Late Cretaceous Asiatic Parvicursorinae, whereas the Late Cretaceous South American non-parvicursorine alvarezsaurids were large animals. The miniaturization occurred by shifting ossification to earlier ontogenetic stages, in particular, by the closure of the neurocentral sutures on the presacral vertebrae of juvenile animals. There is no morphological support for the myrmecophagy in the alvarezsaurids and a shift to a myrmecophagous ecological niche does not explain the need for miniaturization.
Keywords:
Dinosauria, Theropoda, Alvarezsauridae, ontogeny, miniaturization
Downloads
Download data is not yet available.
References
Carrano, M. T. 2006. Body-size evolution in the Dinosauria; 225–268 in M. T. Carrano, T. J. Gaudin, R. W. Blob, J. R. Wible (eds), Amniote Paleobiology: Perspectives on the Evolution of Mammals, Birds, and Reptiles. University of Chicago Press. Chicago.
Francillon-Vieillot, H., de Buffrénil, V., Castanet, J., Géraudie, J., Meunier, F. J., Sire, J.-Y., Zylberberg, L., and de Ricqlès, A. 1990. Microstructure and mineralization of vertebrate skeletal tissues; pp. 471–548 in J. G. Carter (ed.), Skeletal biomineralization: patterns, processes and evolutionary trends. Volume 5. Springer Science. New York.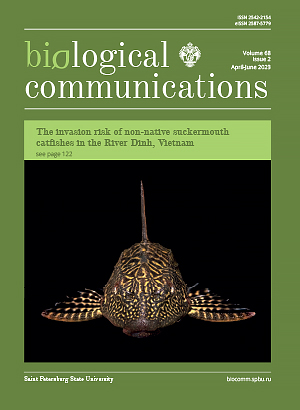 How to Cite
Averianov, A., Skutschas, P., & Lopatin, A. (2023). Ontogeny and miniaturization of Alvarezsauridae (Dinosauria, Theropoda). Biological Communications, 68(2), 65–73. https://doi.org/10.21638/spbu03.2023.201
Section
Full communications
Articles of Biological Communications are open access distributed under the terms of the License Agreement with Saint Petersburg State University, which permits to the authors unrestricted distribution and self-archiving free of charge.