The diversity of fatty acid composition in traditional and rare oil crops cultivated in Russia
Abstract
This review is devoted to the description of chemical peculiarities of industrial oil crops cultivated (or prospective for cultivation) in Russia, which are stored in the VIR collection. Different crops have similar fatty acids biosynthesis pathways, but each species has its own individualities in the chemical composition of the oil and its genetic control. The diversity of oil crop chemical composition opens the possibility of its multipurpose utilization practically in all industrial segments. Sunflower, rapeseed, flax, mustard, camelina and safflower are cultivated in Russia as oil crops. Castor beans, perilla, lallemantia and noog are not cultivated on an industrial scale, but have original oil properties and are prospective for future cultivation. Hemp and poppy seeds contain oil valuable for food, but they are not widespread. Cotton and peanut oils are prospective for industrial purposes when early, already created varieties of these crops will be cultivated in Russia. Oil properties depend on the ratio of its basic fatty acids: saturated (stearic, palmitic) and unsaturated (oleic, linoleic, linolenic). As a rule, lauric, myristic and palmitoleic acids are determined in minor quantities. The oil of Brassicaceae crops also includes arachidic, eicosenoic, eicosadienoic, behenic, erucic and lignoceric acids. Fatty acids accumulation is influenced by growing conditions, though it has strict genetic control.
Keywords:
oil crops, fatty acids, sunflower, linseed, rapeseed, safflower, mustard, castor bean, hemp, peanut
Downloads
Download data is not yet available.
References
Ermakov, A., Davidyan, G., Yarosh, N., Anashchenko, A., Lemeshev, N., Rykova, R., and Megorskaya, O. 1982. Oil crops (Characters of oil quality according to fatty acids content). Leningrad, VIR. (In Russian)
Gavrilova, V., Dubovskaya, A., Kon'kova, N., Brutch, N., and Porokhovinova, E. 2005. Genetic and breeding aspects determining quality of seeds, oil and oilcake of flax, sunflower, rapeseed and camelina, pp. 20–22 in Materials of 5 International conference "Oil-fat industry – 2005: facts, determining oil-fat products quality" Sankt-Peterburg. (In Russian)
Knowles, P. 1989. Safflower. pp. 363–374 in Robbelen, G., Downey, R. K., and Ashri A. (eds), Oil Crops of the Wold.
Krasilnikova, L., Avksentyeva, O., Zhmurko, V., and Sadovnichenko, Yu. 2004. Plants biochemistry. 224 pp. Rostov-on-Don: Feniks, Kharkov: Torgsing. (In Russian)
Kutuzova, S., Gavrilova, V., Shchelko, L., Dubovskaya, A., Kartamysheva, Ye., Vakhrusheva, T., Brutch, N., Grigor'yev, S., Matveyeva, G., and Podol'naya, L. 1998. Oil crops for nutrition purposes (breeding problems, sortiment). Saint Petersburg, VIR. (In Russian)
Minkevich, I. 1939. Safflower. Krasnodar: Krayevoye knizhnoe izdatelstvo. pp. 10–12. (In Russian)
Moshkin, V. 1980. Castor bean. 352 p. Trudy VASKHNIL. (In Russian)
Nizova, G., Dubovskaya, A., Konkova, N., Librikht, A., and Gorkovenko, T. 1999. Catalog of the VIR world collection. Issue 700. Cruciferous crops. Rapeseed, bitter cress, mastard, camelina (Characteristics of the accessions for content of oil, fatty acids and protein). 57 p. Saint Petersburg, VIR. (In Russian)
Nizova, G., and Konkova, N. 2008. Catalog of the VIR world collection. Issue 783. Minor oilseeds eruca, conringia, crambe, cuphea, lallemantia, madia, euphorbia, sunflecks, perilla, safflower, oil radish, camelina, chufa (characterization of biochemical characteristics). 54 p. Saint Petersburg, VIR. (In Russian)
Rational nutrition, norms of physiological needs in energy and nutrients for different groups of the population in Russian Federation. Methodical recommendations MR 2.3.1.2432-08. 2008. Tutelyan, V. (add). 39 p. (In Russian)
Salunkhe, D. K. and Desai, B. B. 1986. Postharvest biotechnology of oilseeds. CRC Press. Boca Raton. Florida. 213 p.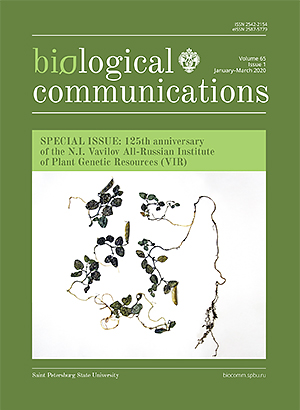 How to Cite
Gavrilova, V., Shelenga, T., Porokhovinova, E., Dubovskaya, A., Kon'kova, N., Grigoryev, S., Podolnaya, L., Konarev, A., Yakusheva, T., Kishlyan, N., Pavlov, A., & Brutch, N. (2020). The diversity of fatty acid composition in traditional and rare oil crops cultivated in Russia. Biological Communications, 65(1), 68–81. https://doi.org/10.21638/spbu03.2020.106
Section
Review communications
Articles of Biological Communications are open access distributed under the terms of the License Agreement with Saint Petersburg State University, which permits to the authors unrestricted distribution and self-archiving free of charge.