An analysis of yield dynamics in Peredovik sunflower variety in the conditions of the North Caucasus Region
Liubov Novikova

Federal Research Center N.I. Vavilov All-Russian Institute of Plant Genetic Resources, Bol'shaya Morskaya ul., 42–44, Saint Petersburg, 190000, Russian Federation

https://orcid.org/0000-0003-4051-3671

Vera Gavrilova

Federal Research Center N.I. Vavilov All-Russian Institute of Plant Genetic Resources, Bol'shaya Morskaya ul., 42–44, Saint Petersburg, 190000, Russian Federation

https://orcid.org/0000-0002-8110-9168
Abstract
The results of observations for 1971–2002 were used to analyze the long-term trends of yield and the duration of the growing season in the sunflower variety Peredovik. The regression analysis has shown that the growing season duration decreases with the increase in the sum of temperatures above 15 °C. The yield of sunflower was negatively associated with the sums of temperatures and the sums of precipitation in May–August, and positively with the precipitation in April. According to the regression analysis in differences, the main factor influencing the yield variability was the hydrothermal coefficient for the period with temperatures above 20 °C, the second factor was spring precipitation. The possible presence of a non-linear trend in yield dynamics that is not related to weather and climate conditions has been revealed. With the sustained tendency of the last 30 years towards an increase in temperatures and a decrease in precipitation in April, the growing season will keep shortening and the yield decreasing.
Keywords:
sunflower, yield, growing season duration
Downloads
Download data is not yet available.
References
Ayvazyan, S. A., Enyukov, I. S., and Meshalkin, l. D. 1985. Applied statistics: study of dependencies. 487 pp. Finance and statistics. Moscow. (In Russian)
Belolyubtsev, A. I. and Sennikov, V. A. 2012. Bioclimatic potential of ecosystems: Textbook. 160 pp. Russian Agrarian University — Moscow Timiryazev Agricultural Academy Press. Moscow. (In Russian)
Carter, T. R. and Mäkinen, K. 2011. Approaches to climate change impact, adaptation and vulnerability assessment: towards a classification framework to serve decision-making. MEDIATION Technical Report No 2(1). 70 pp. Finnish Environment Institute (SYKE). Helsinki.
Eliseeva, I. I., Kurysheva, S. V., Kosteeva, T. V., Pantina, I. V., Mikhailov, B. A., Neradovskaya, Yu. V., Stroye, G. G., Bartels, K., and Rybkina, L. R. 2006. Econometrics: A Textbook. I. I. Eliseeva (ed.). 576 pp. Finance and statistics. Moscow. (In Russian)
Guide to agrometeorological forecasts. 1984. Vol. 2. Technical, vegetable, fruit, subtropical crops, herbs, pasture vegetation, livestock. Yu. S. Melnik, N. V. Gulinova and S. A. Bedarev (eds). 264 pp. Gidrometeoizdat Publ. Leningrad. (In Russian)
Mishchenko, Z. A. 2009. Agro-Climatology. 512 pp. KNT Publ. Kiev. (In Russian)
Pustovoit, V. S. 1975. Main directions of breeding; pp. 153–163 in Sunflower. Kolos Publ. Moscow. (In Russian)
Results of the state variety testing of sunflower. 1972. 136 pp. Kolos Publ. Moscow. (In Russian)
Sirotenko, O. D. 2012. Basics of agricultural meteorology. Vol. 2. Methods of calculations and forecasts in agrometeorology, Book 1. Mathematics models in agrometeorology. 136 pp. All-Russian Scientific Research Institute of Hydrometeorological Information — World Data Center. Obninsk. (In Russian)
Sunflower varieties (State variety testing results for 1958–1961). 1962. 118 pp. Izd-vo sel'skokhoziaistvennoi literatury, zhurnalov i plakatov Publ. Moscow. (In Russian)
Vukolov, E. A. 2004. Fundamentals of statistical analysis. Workshop on statistical methods and operations research using STATISTICA and EXCEL packages. 464 pp. Forum Publ. Moscow. (In Russian)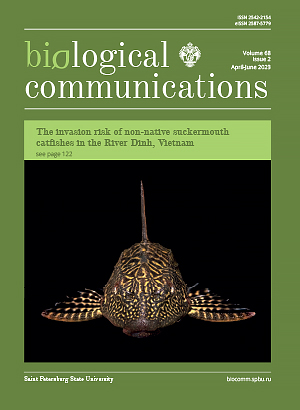 How to Cite
Novikova, L., & Gavrilova, V. (2023). An analysis of yield dynamics in Peredovik sunflower variety in the conditions of the North Caucasus Region. Biological Communications, 68(2), 97–104. https://doi.org/10.21638/spbu03.2023.204
Section
Full communications
Articles of Biological Communications are open access distributed under the terms of the License Agreement with Saint Petersburg State University, which permits to the authors unrestricted distribution and self-archiving free of charge.