Organ-specific transcripts as a source of gene multifunctionality: lessons learned from the Drosophila melanogaster sbr (Dm nxf1) gene
Ludmila Mamon

Department of Genetics and Biotechnology, Faculty of Biology, Saint Petersburg State University, Universitetskaya nab., 7–9, Saint Petersburg, 199034, Russian Federation

https://orcid.org/0000-0001-5338-0703

Viktoria Ginanova

Department of Genetics and Biotechnology, Faculty of Biology, Saint Petersburg State University, Universitetskaya nab., 7–9, Saint Petersburg, 199034, Russian Federation

https://orcid.org/0000-0002-8404-9893

Sergey Kliver

Theodosius Dobzhansky Center for Genome Bioinformatics, Saint Petersburg State University, Sredniy Pr., 41, Saint Petersburg, 199004, Russian Federation

https://orcid.org/0000-0002-2965-3617

Mariya Toropko

Department of Genetics and Biotechnology, Faculty of Biology, Saint Petersburg State University, Universitetskaya nab., 7–9, Saint Petersburg, 199034, Russian Federation

Elena Golubkova

Department of Genetics and Biotechnology, Faculty of Biology, Saint Petersburg State University, Universitetskaya nab., 7–9, Saint Petersburg, 199034, Russian Federation

https://orcid.org/0000-0002-9528-5760
Abstract
Analysis of the transcriptomes of different organisms has demonstrated that a single gene can have multiple transcripts. The sources of transcriptional variability are the alternative promoters, polyadenylation sites, splicing, and RNA editing. A comparison of the organisms of different taxa has demonstrated that the complexity of organization during evolution arises not due to an increase in the number of protein-coding genes. The greatest variability of transcripts is specific to the nervous and germinal systems. A variety of mechanisms providing for the complexity of the transcriptome ensures a precise and coordinated regulation of organ-specific functions through a combination of cis-acting elements and trans-acting factors. The D. melanogaster sbr (Dm nxf1) gene has proven to be an excellent model for investigating mechanisms potentially leading to the emergence of multiple products with various functions.
Keywords:
nxf (nuclear export factor), D. melanogaster, alternative splicing, intron retention, transcriptional variability, alternative polyadenylation
Downloads
Download data is not yet available.
References
Richter, J. D. 1996. Dynamics of poly(A) addition and removal during development. pp 481-503 in J.W.B. Hershey, M.B. Mathews, and N. Sonenberg (eds) "Translational control". Cold Spring Harbor Laboratory Press. Plainview. NY.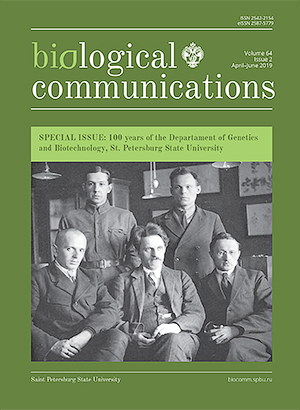 How to Cite
Mamon, L., Ginanova, V., Kliver, S., Toropko, M., & Golubkova, E. (2019). Organ-specific transcripts as a source of gene multifunctionality: lessons learned from the <em>Drosophila melanogaster sbr</em> (<em>Dm nxf1</em&gt;) gene. Biological Communications, 64(2), 146–157. https://doi.org/10.21638/spbu03.2019.206
Section
Review communications
Articles of Biological Communications are open access distributed under the terms of the License Agreement with Saint Petersburg State University, which permits to the authors unrestricted distribution and self-archiving free of charge.