Mild osmotic stress in intertidal gastropods Littorina saxatilis and Littorina obtusata (Mollusca: Caenogastropoda): a proteomic analysis
Abstract
Salinity is a crucial abiotic environmental factor for marine animals, affecting their physiology and geographic ranges. Deviation of environmental salinity from the organismal optimum range results in an osmotic stress in osmoconformers, which keep their fluids isotonic to the environment. The ability to overcome such stress is critical for animals inhabiting areas with considerable salinity variation, such as intertidal areas. In this study, we compared the reaction to mild water freshening (from 24 to 14 ‰) in two related species of intertidal snails, Littorina saxatilis and L. obtusata, with respect to several aspects: survival, behavior and proteomic changes. Among these species, L. saxatilis is more tolerant to low salinity and survives in estuaries. We found out that the response of these species was much milder (with no mortality or isolation reaction observed) and involved weaker proteomic changes than during acute stress (freshening from 24 to 10 ‰), characterized earlier. The proteomic response of the second species, L. obtusata, was weaker (6 % vs 10 % of regulated proteins) than that of L. saxatilis and engaged mainly other proteins. Among proteins potentially involved in adaptation to low salinity, we identified enzymes of energetic metabolism and antioxidant response, chaperones, proteins of extracellular matrix and cytoskeleton, ion channels and regulators of cell growth and proliferation.
Keywords:
salinity adaptation, osmotic stress, proteomic analysis, intertidal molluscs, periwinkles, Littorina, 2D-DIGE
Downloads
Download data is not yet available.
References
Berger, V. Ya. 1986. Adaptatsiya morskikh mollyuskov k izmeneniyam solenosti sredy [Adaptations of Marine Mollusks to Changes of Environmental Salinity], Izdatelstvo Nauka, Leningrad.
Bishop, C. M., 1999. Bayesian pca. In: Advances in neural information processing systems: 382–388.
Oksanen, J. F., Blanchet, G., Friendly, M., Kindt, R., Legendre, P., McGlinn, D., Minchin, P. R., O'Hara, , R. B., Simpson, G. L., Solymos, P., Stevens, M. H. H., Szoecs, E., and Wagner H. 2017. vegan: Community Ecology Package. R package, version 2.4–4. URL: https://CRAN.R-project.org/package=vegan
R Core Team 2017. R: A language and environment for statistical computing. R Foundation for Statistical Computing, Vienna, Austria.
Suzuki, R. and Shimodaira, H. 2015. pvclust: Hierarchical Clustering with P-Values via Multiscale Bootstrap Resampling. R package version 2.0–0. URL: https://CRAN.Rproject.org/package=pvclust
Wickham, H., 2009. ggplot2: Elegant Graphics for Data Analysis Springer-Verlag. New York.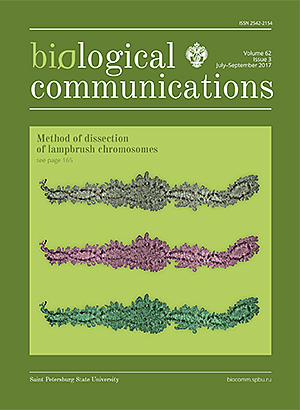 How to Cite
Muraeva, O., Maltseva, A., Varfolomeeva, M., Mikhailova, N., & Granovitch, A. (2017). Mild osmotic stress in intertidal gastropods <em>Littorina saxatilis</em> and <em>Littorina obtusata</em&gt; (Mollusca: Caenogastropoda): a proteomic analysis. Biological Communications, 62(3), 202–213. https://doi.org/10.21638/11701/spbu03.2017.305
Section
Full communications
Articles of Biological Communications are open access distributed under the terms of the License Agreement with Saint Petersburg State University, which permits to the authors unrestricted distribution and self-archiving free of charge.