Latitudinal and zonal distribution of Zygnematales in the West Siberian Plain
Boris Sviridenko

Scientific Research Institute of the Ecology of the North, Surgut State University, 22, ul. Energetikov, Khanty-Mansijsk Autonomous District — Ugra, Surgut, Tyumen Region, 628412, Russian Federation

Konstantin Yevzhenko

Omsk State Pedagogical University, 14, nab. Tukhachevskogo, Omsk, 644099, Russian Federation

Andrey Efremov

Environmental Survey Department, Design Institute for Oil and Gas Projects Construction and Rehabilitation, 153/2, ul. Krasny Put, Omsk, 644033, Russian Federation

Olga Tokar

Ishim State Pedagogical Institute, 1, ul. Lenina, Ishim, 627750, Russian Federation

Tatyana Sviridenko

Scientific Research Institute of the Ecology of the North, Surgut State University, 22, ul. Energetikov, Khanty-Mansijsk Autonomous District — Ugra, Surgut, Tyumen Region, 628412, Russian Federation

Anna Okulovskaya

Surgut State University, 22, ul. Energetikov, Khanty-Mansijsk Autonomous District — Ugra, Surgut, Tyumen Region, 628412, Russian Federation
Abstract
In 2006–2011 samples of the order Zygnematales were collected in water bodies of the West Siberian Plain on the territory between 53–67° N and 70–80° E. New information on 15 species from 4 genes and 3 families were obtained. Phytogeographical zones of the West Siberian Plain are compared in terms of their species composition and the duration of the vegetative period of Zygnematales.
Keywords:
West Siberian Plain, phytogeographical zones, Zygnematales, fertile populations
Downloads
Download data is not yet available.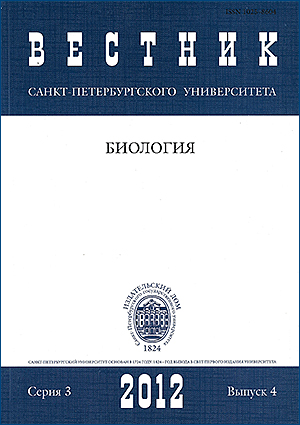 How to Cite
Sviridenko, B., Yevzhenko, K., Efremov, A., Tokar, O., Sviridenko, T., & Okulovskaya, A. (2012). Latitudinal and zonal distribution of Zygnematales in the West Siberian Plain. Biological Communications, (4), 38–49. Retrieved from https://biocomm.spbu.ru/article/view/3198
Section
Full communications
Articles of Biological Communications are open access distributed under the terms of the License Agreement with Saint Petersburg State University, which permits to the authors unrestricted distribution and self-archiving free of charge.