Development and evaluation of mouse cell culture models to study mechanisms of muscle regeneration and degeneration in vitro
Alexandra Davydova

Almazov Federal Medical Research Centre, 2, ul. Accuratova, Saint Petersburg, 197341, Russian Federation; Saint Petersburg State University, 7–9, Universitetskaya nab., Saint Petersburg, 199034, Russian Federation

Natalia Smolina

Saint Petersburg State University, 7–9, Universitetskaya nab., Saint Petersburg, 199034, Russian Federation

https://orcid.org/0000-0002-3339-0688

Anna Kostareva

Saint Petersburg State University, 7–9, Universitetskaya nab., Saint Petersburg, 199034, Russian Federation

https://orcid.org/0000-0002-9349-6257

Renata Dmitrieva

Saint Petersburg State University, 7–9, Universitetskaya nab., Saint Petersburg, 199034, Russian Federation
Abstract
In present work we compare different experimental models that would allow to investigate the molecular mechanisms of muscle tissue regeneration and degeneration in vitro. Three types of cell cultures were tested: commercially available murine myoblasts line C2C12, and primary murine muscle cells, s+atellite cells (SC) and mesenchymal fi bro-adipogenic precursors (FAP). All cells were Myf5+ with similar levels of Myf5 expression. As expected, stimulation of myogenic diff erentiation in C2C12 resulted in consistent changes in expression of early (Myf5, MyoD) and late (Myogenin, Mrf4) regulators of myogenesis. As compared to C2C12, SC demonstrated increased dynamics of both, myotubes formation, and Mrf4 expression. In FAP myogenic stimulation did not affect the level of regulators of myogenesis, while spontaneous adipocyte formation was detected; conversely, an increase in adipomarkers expression (PPARg, Fabp4, Pgc1a), and a massive adipocytes formation occurred in FAP after stimulation of adipogenesis. Surprisingly, in SC adipogenic cocktail caused significant increase in expression of both adipo- and myo- regulators, however, the massive adipogenesis was not observed. Instead, active formation of MHC-positive myotubes was detected. Thus, our results indicate that C2C12 demonstrate better time course and reciprocal regulation of early and late regulators of myogenesis, while SC show better dynamics of myogenesis in vitro. Moreover, we assume that SC-FAP interactions could play an important role in regulation of muscle regeneration/degeneration, and a SC/FAP dynamic culture system could be a good and relatively simple in vitro model to perform "proof of principle" experiments investigating how muscle tissue responds at molecular and cellular levels to different physiological and pharmacological interventions. Refs 21. Figs 6. Tables 1.
Keywords:
myogenic differentiation, adipogenic differentiation, murine myoblasts line C2C12, satellite cells, mesenchymal fibro-adipogenic precursors, PPARg, Fabp4, Pgc1a, Myf5, MyoD, Mrf4, Myogenin
Downloads
Download data is not yet available.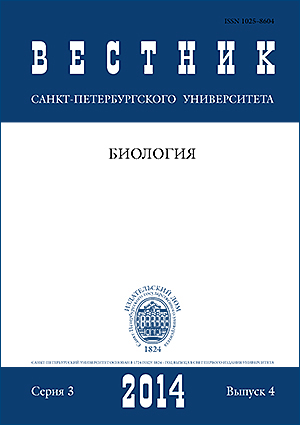 How to Cite
Davydova, A., Smolina, N., Kostareva, A., & Dmitrieva, R. (2014). Development and evaluation of mouse cell culture models to study mechanisms of muscle regeneration and degeneration <em>in vitro</em&gt;. Biological Communications, (4), 108–119. Retrieved from https://biocomm.spbu.ru/article/view/1066
Section
Full communications
Articles of Biological Communications are open access distributed under the terms of the License Agreement with Saint Petersburg State University, which permits to the authors unrestricted distribution and self-archiving free of charge.