Homoarginine and ornithine production during C2C12 myogenic differentiation
Alexandr Zhloba

Biochemical Department of Scientific Centre, Pavlov First Saint Petersburg State Medical University, L'va Tolstogo Str., 6–8, Saint Petersburg, 197022, Russian Federation

https://orcid.org/0000-0003-0605-7617

Tatiana Subbotina

Biochemical Department of Scientific Centre, Pavlov First Saint Petersburg State Medical University, L'va Tolstogo Str., 6–8, Saint Petersburg, 197022, Russian Federation

https://orcid.org/0000-0002-2278-8391

Stanislava Prikhodko

Institute of Molecular Biology and Genetics, Almazov Federal Medical Research Centre, ul. Akkuratova, 2, Saint Petersburg, 197341, Russian Federation

https://orcid.org/0000-0001-7018-6398

Alexandr Khudiakov

Institute of Molecular Biology and Genetics, Almazov Federal Medical Research Centre, ul. Akkuratova, 2, Saint Petersburg, 197341, Russian Federation

Natalia Smolina

Institute of Molecular Biology and Genetics, Almazov Federal Medical Research Centre, ul. Akkuratova, 2, Saint Petersburg, 197341, Russian Federation; ITMO University, Saint Petersburg, Russian Federation

https://orcid.org/0000-0002-3339-0688

Anna Kostareva

Institute of Molecular Biology and Genetics, Almazov Federal Medical Research Centre, ul. Akkuratova, 2, Saint Petersburg, 197341, Russian Federation; ITMO University, Saint Petersburg, Russian Federation; Department of Women's and Children's Health, Karolinska Institutet, Stockholm, Sweden

https://orcid.org/0000-0002-9349-6257
Abstract
Assessment of cellular rates of amino acid consumption and release in vitro allows the study of cell culture in a time-course experiment without any cell damage. Determination of the release of amino acid metabolites that initially were not present in the media provides more reliable information about the processes of growth and differentiation in comparison with determination of amino acid consumption rates. Homoarginine (hArg), a derivative of arginine, is generated as the minor product in the reaction catalyzed by L-Arginine: glycine amidinotransferase, where L-lysine serves as an acceptor for amidine group instead of glycine. Ornithine is another product generated in this reaction from arginine. Thus, the goal of the present study was to evaluate the rate of hArg and ornithine accumulation in comparison to the rate of consumption of other amino acids in the course of C2C12 myoblast differentiation. The release time profiles were similar for hArg and ornithine, with the maximum corresponding to the second day of differentiation. The shift for hArg at this time point was detected with greater reliability (p < 0.002) than for ornithine and other amino acids. We suggest that hArg and ornithine could serve as markers to monitor the processes of myoblasts growth and differentiation.
Keywords:
amino acids, homoarginine, myogenic differentiation, ornithine
Downloads
Download data is not yet available.
References
Henderson, J. W., Ricker, R. D., Bidlingmeyer, B. A., Woodward, C. 2000. Rapid, accurate, sensitive and reproducible HPLC analysis of amino acids. Agilent Pub 5980-1193 E
Hong, P., Wheat, T. E., Mazzeo, J. R., and Diehl, D. M. 2007. Monitoring cell culture media with the Waters amino acid analysis solution. Waters Applications Notebook 720002381EN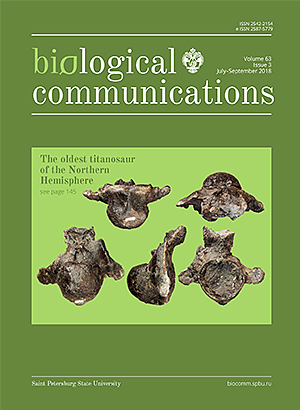 How to Cite
Zhloba, A., Subbotina, T., Prikhodko, S., Khudiakov, A., Smolina, N., & Kostareva, A. (2018). Homoarginine and ornithine production during C2C12 myogenic differentiation. Biological Communications, 63(3), 174–179. https://doi.org/10.21638/spbu03.2018.303
Section
Full communications
Articles of Biological Communications are open access distributed under the terms of the License Agreement with Saint Petersburg State University, which permits to the authors unrestricted distribution and self-archiving free of charge.