The length growth rate variability of Mytilus edulis L. (Mollusca, Bivalvia) in the waters of the Keret archipelago (Kandalaksha Gulf, the White Sea)
Alexandra Guerasimova

Saint Petersburg State University, 7–9, Universitetskaya nab., Saint Petersburg, 199034, Russian Federation

Natal'a Ivonina

Saint Petersburg State University, 7–9, Universitetskaya nab., Saint Petersburg, 199034, Russian Federation

Nikolay Maximovich

Saint Petersburg State University, 7–9, Universitetskaya nab., Saint Petersburg, 199034, Russian Federation
Abstract
Length growth of Mytilus edulis was studied in 9 locations at the Kandalaksha Gulf (the White Sea), situated from the middle intertidal zone to upper subtidal zone (to a depth of 0.5 m). In the each location hydrodynamics intensity was determined using plaster balls. It has been shown that the main differences of the group growth characteristics of mussels in the locations studied were associated with the intensity of water exchange and (or) duration of air exposure. In the middle intertidal zone a primary reason for the decrease of the mussel growth rate is obviously a long duration of air exposure. Changes in the average growth rate of mussels after short duration air exposure (low intertidal and subtidal zones), were apparently directly related with the intensity of hydrodynamics. However, the variability of individual growth rates within a single mussel location greatly exceeded the variations of group growth characteristics. The main reason of Mytilus edulis bed internal heterogeneity apparently was due to the effect of mollusc initial size (to the second season of growth) on their growth rate subsequently. Refs 56. Figs 7. Tables 4.
Keywords:
bivalvia, Mytilus edulis, length growth, hydrodynamics, the White sea
Downloads
Download data is not yet available.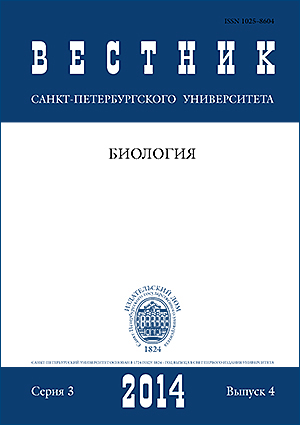 How to Cite
Guerasimova, A., Ivonina, N., & Maximovich, N. (2014). The length growth rate variability of <em>Mytilus edulis</em&gt; L. (Mollusca, Bivalvia) in the waters of the Keret archipelago (Kandalaksha Gulf, the White Sea). Biological Communications, (4), 22–38. Retrieved from https://biocomm.spbu.ru/article/view/1059
Section
Full communications
Articles of Biological Communications are open access distributed under the terms of the License Agreement with Saint Petersburg State University, which permits to the authors unrestricted distribution and self-archiving free of charge.