The study of plant adaptation to oxygen deficiency in Saint Petersburg University
Tamara Chirkova

Department of Plant Physiology and Biochemistry, Faculty of Biology, Saint Petersburg State University, Universitetskaya nab., 7–9, Saint Petersburg, 199034, Russian Federation

https://orcid.org/0000-0002-2315-0816

Vladislav Yemelyanov

Department of Genetics and Biotechnology, Faculty of Biology, Saint Petersburg State University, Universitetskaya nab., 7–9, Saint Petersburg, 199034, Russian Federation

https://orcid.org/0000-0003-2323-5235
Abstract
The first studies on plant anaerobiosis started at the Department of Plant Physiology at St. Petersburg University in the beginning of the XXth century, but interest in this subject became most intensive during the investigations of the ecological plant physiology group under the supervision of Prof. T. V. Chirkova. Their first step was focused on the mechanisms of transport of gases from the aerated aboveground part of the plant to the flooded root system. Further interest shifted towards clarifying the biochemistry of respiratory metabolism, pathways of reoxidation of the reduced cofactors, and protein and lipid metabolism of plants under anoxic conditions. The group's studies have always distinguished the comparative approach, in which the changes taking place in plants differing in resistance to oxygen deficiency were analyzed. In many ways, this research was pioneering and was recognized throughout the world. For the first time the possibility of hydrogen peroxide formation in plants under total anoxia was demonstrated. The role of cell membranes in adaptation processes was revealed. Pioneering investigations distinguished the features of photosynthesis in an oxygen-free environment and the work of an antioxidant system under conditions of anoxia and post-anoxic oxidative effects. Now, the plant ecophysiology group of the Department of Plant Physiology and Biochemistry of St. Petersburg State University concentrates on the mechanisms of anaerobic signal transduction and reveals how plant hormones regulate adaptation to anoxic and post-anoxic stresses.
Keywords:
oxygen deficiency, post-anoxic stress, plant respiration, fermentation, protein and lipid metabolism, reactive oxygen species, antioxidants
Downloads
Download data is not yet available.
References
Chirkova, T. V. 1978. Some regulatory mechanisms of plant adaptation to temporal anaerobiosis; pp. 137–155 in D. D. Hook, R. M. M. Crawford (eds.), Plant life in anaerobic environments. Ann Arbor Science Publishers Inc., Ann Arbor, Michigan, USA.
Chirkova, T. V. 1988b. Puti adaptatsii rasteniy k gipoksii i anoksii [Pathways of plant adaptation to hypoxia and anoxia]. Leningrad University Press, Leningrad.
Chirkova, T. V. 2002. Fiziologicheskie osnovy ustoychivosti rasteniy. [Physiological basis of plant resistance]. 244 pp. Izdatelstvo Sankt-Peterburgskogo Universiteta, Saint Petersburg
Crawford, R. M. M. 1978. Metabolic adaptation to anoxia; pp. 119–136 in D. D. Hook, R. M. M. Crawford (eds.), Plant life in anaerobic environments. Ann Arbor Science Publishers Inc., Ann Arbor, Michigan, USA.
Crawford, R. M. M. 1989. Studies in plant survival. Ecological case histories of plant adaptation to adversity; 296p. in D. J. Anderson, P. Greic-Smith, F. A. Pitelka (eds.), Studies in ecology. Vol. 11. Blackwell Scientific Publications, Oxford — London — Edinburgh — Boston — Palo Alto — Melbourne.
Nabokikh, A. I. 1905. Vremennyj anajerobioz vysshih rastenij: Eksperimental'noe issledovanie. Chast' 1. Nabljudenija nad processami rosta v beskislorodnoj srede. [Temporary anaerobiosis of higher plants: Experimental study. Part 1. Observations on growth processes in an oxygenfree environment.] St. Petersburg: Publishing house of I. N. Skorokhodov.
Semikhatova, O. A., and Chirkova, T. V. 2001. Fiziologiya dykhaniya rasteniy. [Physiology of plant respiration]. Izdatelstvo Sankt-Peterburgskogo Universiteta, Saint Petersburg, 220 pp.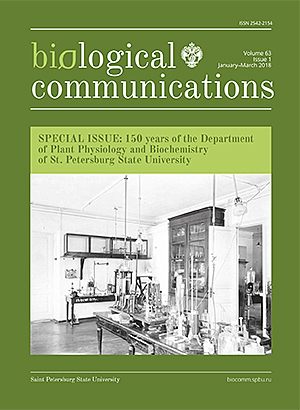 How to Cite
Chirkova, T., & Yemelyanov, V. (2018). The study of plant adaptation to oxygen deficiency in Saint Petersburg University. Biological Communications, 63(1), 17–31. https://doi.org/10.21638/spbu03.2018.104
Section
Review communications
Articles of Biological Communications are open access distributed under the terms of the License Agreement with Saint Petersburg State University, which permits to the authors unrestricted distribution and self-archiving free of charge.